Last weekend my husband and I went to Disney Springs to see Beauty and the Beast, Disney's new live action version of the animated classic. (The movie was wonderful,  by the way!) We decided to head up to WDW for the movie so we could do some shopping, be immersed in Disney, and to try out AMC's Dine-In Theatre.
Seating is reserved. The chairs are comfortable, but getting old; the leather is stiff and aging. They lean back but in a desk chair kind of way, not like the feet-up recliners you see in a lot of theaters these days. In front of you there's a table for your food, which conveniently has a foot bar I found very comfortable to prop my feet up on. It's not stadium seating at all, though; there isn't much slope to the floor so I wouldn't get seats too far in the back. Overall, the theater viewing room itself needs a refurb soon.
Our movie was at 11 AM, so we got there a little early to get our food order in right away. There are menus waiting for you, as well as silverware and 3D glasses, if needed. You can look at the full menu here on Disney's site, but it offers a wide array of choices, including but not limited to burgers, boneless wings, nachos, sushi rolls, flatbreads, teriyaki bowls, mac & cheese, salads, wraps, tacos, chicken tenders, fish & chips, and doughnuts. You can also, of course, order traditional movie fare such as popcorn, candy, and drinks.
When you're ready to order, you press a button at your table.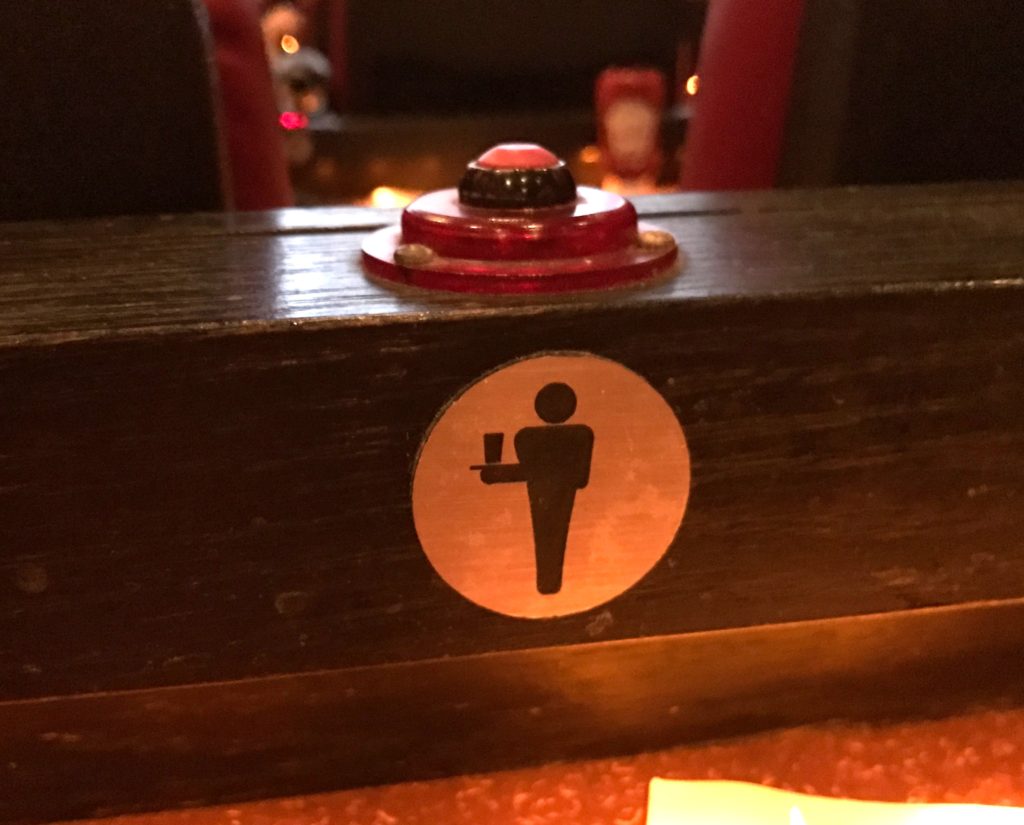 Shortly thereafter, a waiter arrives and takes your order. The food arrived rather quickly after that — we had everything, drinks, appetizers, and main course, before the movie started. The waiters were all extremely helpful, polite, and attentive. Definitely a little of the Disney spirit of customer service going on there.
Review: AMC Disney Springs 24 Dine-In Theatre at Walt Disney World
Click To Tweet
You don't have to order early, though. And if you need anything during the movie, like a refill or napkins or dessert, just push the button and your waiter comes by again. This, though, was my biggest concern about a dine-in theater. I hate it when people talk, use their cell phones, or do anything distracting during the movie. It drives me crazy. People ordering food, waiters walking around, all during a Disney extravaganza and remake of one of my favorite movies, that I'd waited over a year for? Sounds like a recipe for disaster. Weirdly, though, it wasn't at all distracting. The aisles are wide and the waiters really know how to be unobtrusive. It was fine, no problems, no distractions. Trust me, if there's ANYONE this arrangement was going to bother, it was me, and it didn't.
So, on to the food!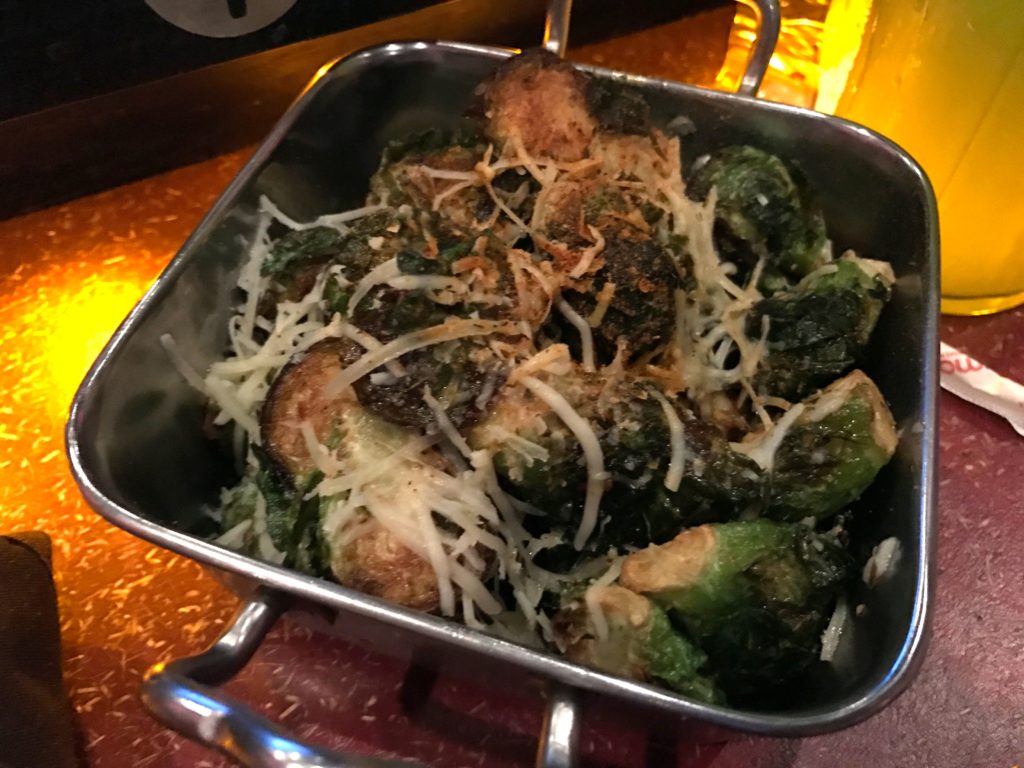 We ordered two appetizers, the first being the Crispy Brussels Sprouts. They were very nicely seasoned, crunchy-crispy, and the cheese was a nice added touch. I know everyone isn't a fan of Brussels sprouts (though I don't know why not!) but these were delicious.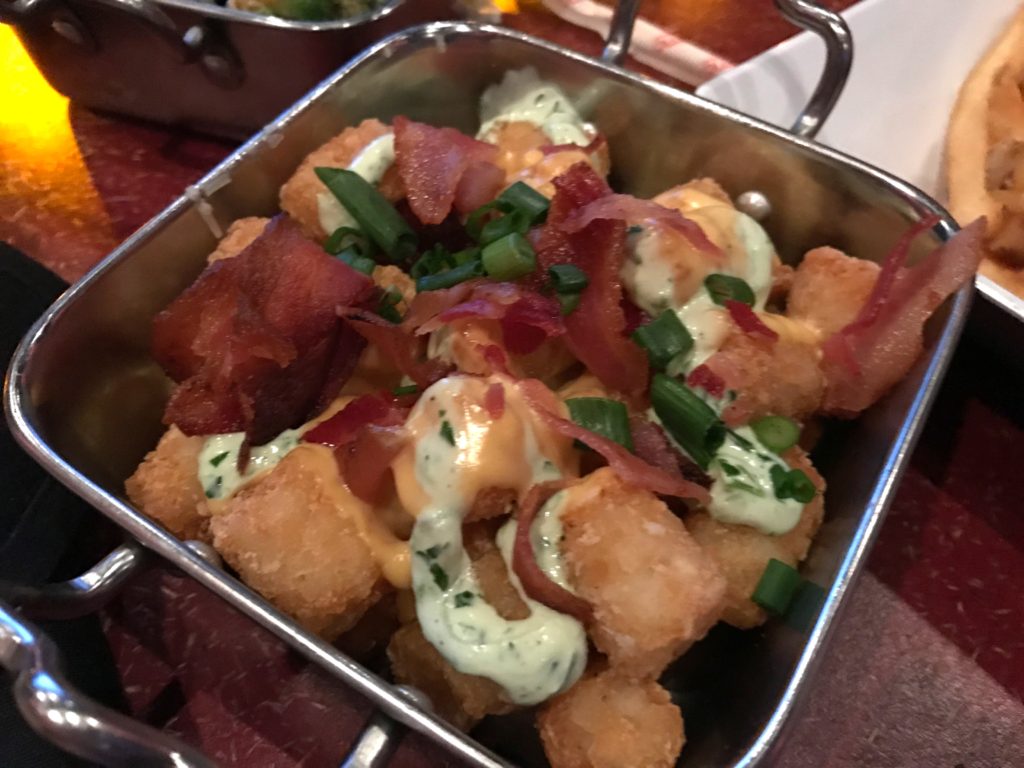 We also got the loaded tater tots, and these were a little disappointing. The tots did have cheese sauce, bacon, scallions, and Ranch dressing, but not the way I'd imagined it — there was just a drizzle of each on top of regular old tater tots. Which are always yummy, but I expected something a little more decadent.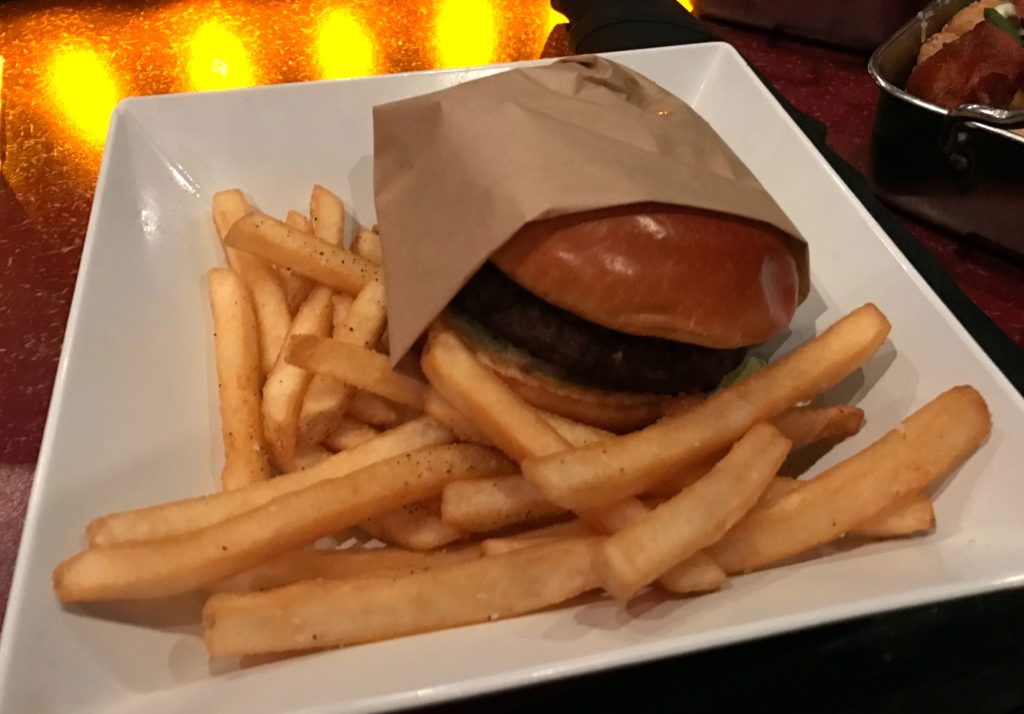 Both of us had burgers and fries as our entrée. The fries were pretty good, especially while they were still hot. Crispy on the outside, soft on the inside, nicely greasy. The burger wasn't exceptional, though. The bun was fine but the patty itself was overcooked and dry.  My husband got the Royal Burger, which was loaded with bacon, brie, carmelized onions, sweet fig jam, and Royal sauce, and he didn't notice that it was dry, given all those gooey toppings. A better-cooked burger to start with, though, would be a good improvement all around.
We had a great time at the AMC Dine-In at Disney Springs and would definitely go to a movie there again, especially a Disney movie, just to feel a little more immersed in the land of the Mouse. A few updates, a fresh coat of paint, and a better meat thermometer and I'd give it an A+, but even without those it's a fun experience I can definitely recommend.