There've always been a lot of rumors about Walt Disney World replacing or changing MagicBands, none of which have come to fruition. Today, though, thanks to some intel from MagicBand Collectors, there's reason to think it might actually be happening.
A new post on the FCC's system for MagicBand ID Q3E-MB-R1G2 shows some pictures of a prototype MagicBand puck that would fit into a changeable strap. This would allow guests to keep the same puck and interchange different straps as they would like.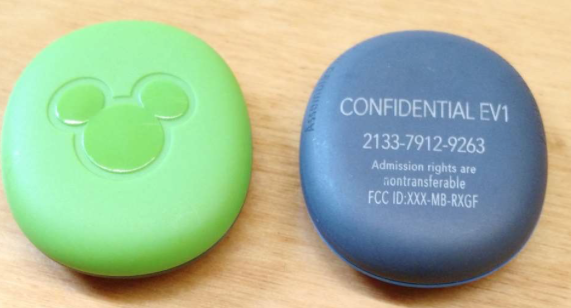 [source: MagicBand Collectors. Visit their site for more images, including a size comparison with current MagicBands. The "puck" looks huge here, but actually appears to be approximately the size of a nickel.]
I'm hearing this is technology more like the FitBit step tracker — I don't use one so I'm not familiar with the details in that regard. The idea is that you would snap this "puck" into a strap as either a bracelet or a necklace or perhaps a key fob. This would lower the cost of those straps (theoretically) because no chips would be embedded in each one, thus lowering production costs and IT support for Disney. Rumor has it that as guests' accounts fill up with multiple MagicBands from multiple trips, this causes headaches and backup for Disney IT.
I personally see this is an all-new accessory revenue stream for Disney. Special light-up necklaces to hold your "puck" for nighttime or parties, new graphic designs for every character and every season — the possibilities for merchandising are endless, and no longer limited by needing that special chip in each decorative version.  Right now Disney fans and park visitors love to buy limited edition MagicBands or ones featuring their favorite characters. In the future, you might be able to buy all kinds of items to hold your "puck".
Will Disney replace MagicBands with a new wearable device? This rumor might be for real.
Click To Tweet
My thoughts: well, the thing is, I like MagicBands the way they are. I know a lot of park visitors don't, but I think it's fun to wear one. I've never had a technical problem with mine and I love the convenience. So this is a problem I didn't think needed fixing, but it might be more of a back-end issue than something users can see. My first and foremost thought, though, is that it seems ridiculously easy to lose these, and thereby create headaches for everyone involved getting them replaced. I don't know how easy or difficult it will be to "pop" them in and out of wearable straps, but there's always a chance, with something removable, of it coming loose. More to the point, there are going to be plenty of visitors who don't like wearing anything, or hate feeling cluttered, and just shove the disk in their pockets — thereby making them as losable as loose change. Since I'm not one of those people it's not my problem to solve, but I can't help thinking it'll be a future factor.
There are currently no official announcements as to when we may see these in the parks — this is just in the rumor stage. But with the FCC filing, we know something is being tested at least — according to MagicBand Collectors, there has been a working prototype already tested behind the scenes.