There's plenty of festive spirit to go around this holiday season at Disney World, especially at Mickey's Very Merry Christmas Party! Planning your party visit can be daunting, but we've gathered together a lot of great information to help you right here.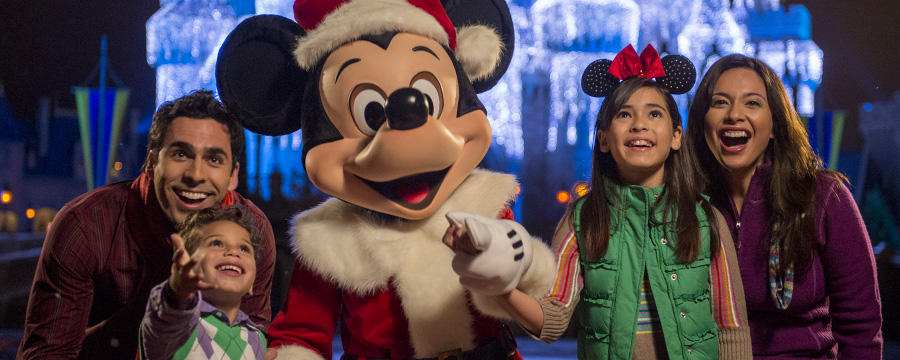 Here's everything you need to know about Magic Kingdom's Mickey's Very Merry Christmas Party!
Click To Tweet
Mickey's Very Merry Christmas Party (also known as MVMCP) takes place on select evenings at Magic Kingdom in November and December. It features exclusive holiday entertainment, snow falling on Main St., and complimentary cookies and hot cocoa.
Here's everything you need to know to have a very merry time!
Tickets – Dates and Times
Buy tickets HERE! This is a special event with its own ticket. People with event tickets can enter Magic Kingdom at 4 PM to enjoy the park before the party officially kicks off at 7 PM. Park visitors who do not have  a party ticket have to leave Magic Kingdom by 7 AM.
Tickets are non-refundable. Some party dates, especially close to Christmas, do sell out.
2016 event dates are:
November: 7, 8, 10, 11, 13, 15, 18, 27 and 29
December: 1, 2, 4, 6, 8, 9, 11, 13, 15, 16, 18 and 22
Tickets for 2016 went on sale May 5 and can be purchased online or by calling 407-WDISNEY. Prices vary depending on the date and whether or not you purchase in advance.
Mickey's Once Upon a Christmastime Parade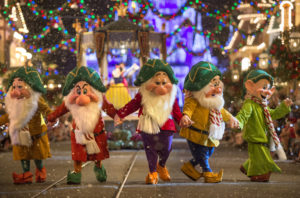 Mickey's Once Upon a Christmastime Parade is a fun, festive experience that is one of the highlights of the Very Merry Christmas Party.  Mickey and Minnie start the parade and Santa finishes it (of course), with all sorts of festive friends marching in between — marching toy soldiers, reindeer, gingerbread men, and classic characters dressed in their holiday best . And on Main Street USA, there's even snow!
There are two parades at each party. The second parade will generally be less crowded than the first, so see that one if you can. If you would rather see the first one,  grab your spot early. The parade starts in Frontierland, so you might consider looking for a good spot there.
Celebrate the Magic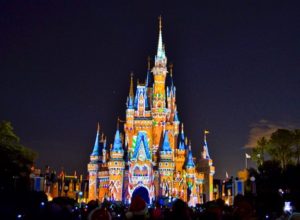 The nightly castle projection show you love, but with a holiday twist. Past Christmas scenes have wrapped the castle in colorful bows and boughs, gift paper and ribbons, ornaments, candy stripes, strands of lights, and gingerbread.
Celebrate the Magic takes place at 9:15 PM, just before the fireworks begin.
Holiday Wishes – Celebrate the Spirit of the Season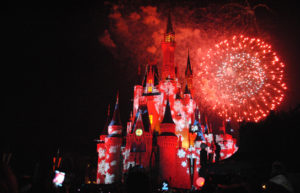 The Christmas Party features a fantastic fireworks spectacular. Holiday Wishes is a festive show featuring a delightful score of all your favorite holiday and Disney songs.
There is only one performance of Holiday Wishes, at 10:00 PM.
A Totally Tomorrowland Christmas Show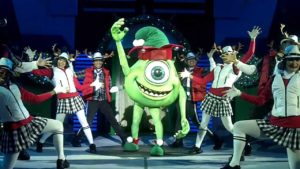 A Totally Tomorrowland Christmas Show is a stage performance held near Space Mountain that lasts about 20 minutes and is held several times per night. It stars an eclectic mix of characters including Mike Wazowski from Monsters Inc. and Stitch. Part entertainment and part dance party, this show will get you moving!
Times: 7:40, 8:30, 9:20, 10:45, 11:35 PM.
A Frozen Holiday Wish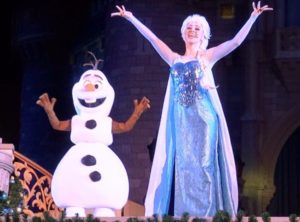 Queen Elsa from Frozen appears twice each evening to get the Castle Dream Lights lit up for the night in a 7-minute show called "A Frozen Holiday Wish."
This special ceremony happens each night at Magic Kingdom from early November to January, not just on party nights, at 6:30 and 8:15 PM.
Mickey's Most Merriest Celebration
New for 2016!  Mickey's Most Merriest Celebration will make its debut for the 2016 holiday season. From Disney:
It's just days before Christmas and all through this house, excitement is stirring thanks to Mickey Mouse.

Mickey is thrilled that the holidays are here, and he knows the only way to make this season more special, is to share it with friends. So he's throwing a Most Merriest Celebration and inviting lots of Disney pals—and you—to join the festive fun!

Minnie, Donald, Daisy, Goofy and Pluto are dropping by dressed in their Christmas best. Peter Pan is flying in from Never Land, Alice and the White Rabbit are hurrying over from Wonderland and Woody and Jessie from Toy Story are galloping in for this holiday ho ho hoedown. Plus, Snow White and Dopey, Pinocchio, Jiminy Cricket and many more surprise guests will be stopping by.
Mickey's Most Merriest Celebration will feature medleys of holiday songs both old and new, special effects, projections and all of your favorite character friends. The new show will be presented on the Cinderella Castle Forecourt Stage during Mickey's Very Merry Christmas Party.
Times: 7:40, 9:25,10:30 PM, 12 AM (midnight).
Sweets and Treats Included!
Throughout the Magic Kingdom, Cast Members will hand out all kinds of treats to guests. (If you have a particular food allergy, Guest Services at City Hall has allergy-free options.)
Tortuga Tavern: Hot Cocoa and Snickerdoodle Cookies
Heritage House: Eggnog and Ginger-Molasses Cookies
The Friar's Nook: Snow Cone and Sugar Cookies
Pete's Silly Sideshow: Apple Cider and Sugar Cookies
The Lunching Pad: Hot Cocoa and Peppermint Bark Cookies
Special Snacks for Sale!
Special goodies are available for purchase only during the party. These can be found at the following locations and include:
• Plaza Ice Cream Parlor: Peppermint Hot Fudge Sundae
• Gaston's Tavern: Holiday Tree Cupcake
• Main Street Bakery: Frozen Snowflake Cupcake, Peppermint Cupcake, Holiday Cookies
• Sleepy Hollow: Pumpkin Waffle Sundae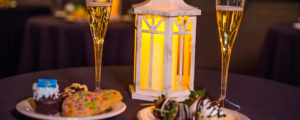 Sweeten your night with this holly-jolly premium experience. For $79 per adult and $47 per child (age 3 to 9), this package includes a reserved viewing location for Mickey's Once Upon a Christmastime Parade on Main Street USA, followed by a private dessert party on Tomorrowland Terrace. The party features a host of holiday-themed cupcakes and desserts freshly prepared by our pastry chef, along with a bountiful buffet of sweet treats—like chocolate-dipped strawberries, chocolate mousse, ice cream, cheeses and fresh, seasonal fruits. Raise a cup of good cheer with sparkling cider, signature lemonades, specialty Christmas drinks, hot chocolate, coffee or tea, and then marvel as the sky above explodes with color, music and light with your reserved viewing of Holiday Wishes from the terrace.
For reservations, please book online or by calling (407) 939-3463. Guests under 18 years of age must have parent or guardian permission to call. Please note: a separate ticket to Mickey's Very Merry Christmas Party is also required and is not included in the price of this package.
Sorcerers of the Magic Kingdom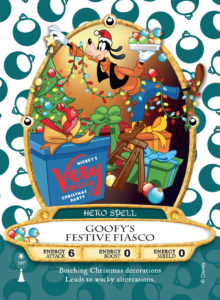 Each year a special new Sorcerers of the Magic Kingdom card is available only to partygoers. This year's card features Goofy!
From the Disney Parks blog:
Just in case you're new to Sorcerers of the Magic Kingdom, this interactive game allows guests to team up with Merlin in defeating Disney Villains who are scheming to take over Magic Kingdom Park. Guests search for villain hideouts throughout the park, visit magic portals and use special spell cards to defeat villains. Each spell card stars a different Disney character, each with their own unique powers. The game begins at the Firehouse on Main Street, U.S.A., where you can pick up complimentary key cards, spell cards and maps (additional cards can be purchased at select merchandise locations).
This year's party-exclusive card is "Goofy's Festive Fiasco" and, according to Imagineer Jonathan Ackley, "celebrates the glorious holiday chaos created by Goofy as he attempts to decorate for the season!"
Other fun events and sights to see at Mickey's Very Merry Christmas Party:
VoicePlay: This a cappella singing group performs on the Rockettower Plaza Stage in Tomorrowland at 8:10 p.m., 9:05 p.m., 10:10 p.m., and 11:05 p.m. on party nights. VoicePlay, who appeared on the TV show "The Sing-Off," will share their incredible vocal harmonies and holiday cheer between performances of " A Totally Tomorrowland Christmas" at the Rockettower Plaza Stage.
Meet and greet opportunities with Disney Characters
Club Tinsel dance party takes place continuously at Cosmic Ray's in Tomorrowland.
For people who like characters, this is a fun way to interact with them. They won't be signing autographs but it's a chance to enjoy them in a different way than you normally would.
Many rides and attractions are open, with short lines.
Exclusive merchandise
PhotoPass photographers will take Magic Shots during the party. When you look at your pictures, you'll see something magically inserted into the shot with you
Also for the holiday season, the iconic Jungle Cruise will temporarily transform into "Jingle Cruise" for Magic Kingdom guests. Festive decor in the attraction queue and boathouse gives guests a bit of Christmas cheer. The Jingle Cruise boats each are given a unique holiday name, and the Skippers share a slew of seasonal holiday jokes throughout the tour.
Mickey's Very Merry Christmas Party  Guide and Map
Click to see the full-sized map.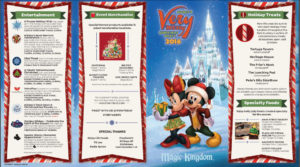 Visiting Magic Kingdom at the end of December, after the final party date?
Special holiday entertainment shown during this party will be shown daily after the last party of the year. Beginning December 23, you will not need an extra ticket to see all of the special holiday events listed here. Be aware, though, that crowds during Christmas week tend to be extremely heavy.
Frequently Asked Questions
Q: If I purchase a ticket to Mickey's Very Merry Christmas Party, do I need to have a Park ticket for the Magic Kingdom for that day as well?
A: No. You do not need a park ticket in addition to the special event ticket to attend the Christmas Party, which officially begins at 7 PM — however party guests have traditionally been allowed into the Magic Kingdom starting at 4 PM.
Q: Can I enter the Park at 4 PM, leave and come back?
You can, because you'll be given a special Party wristband. But you'll be giving up valuable Park time if you do.
Q: Do they really make non-Party guests leave Magic Kingdom at 7 PM?
Yes. As it gets closer to 7 PM, Cast Members will start reminding everyone not wearing a wristband that they must leave before the Party begins. Once 7 PM comes, Cast Members will start escorting anyone without a wristband out of the Park. You'll always hear stories of people who claim they were able to sneak past the CMs and stay, but some of those may be exaggerated, and besides, you don't want to be that guy, do you?
Q: What if I've got an ADR (Advanced Dining Reservation) at a Magic Kingdom restaurant like Be Our Guest at 6 PM? They're not going to cut my dinner short, are they?
Definitely not. But when you are finished and leave the restaurant, you'll be escorted to the gate.
Q: Will I be able to make FastPass+ selections for attractions during the Christmas Party?
No, but also kind of yes.
No — there are no FastPass+ selections available during the Party, between 7 PM and Midnight. The good news is, you won't need them. Ride lines tend to be much shorter during holiday parties because guests are busy with other activities, like special character meet and greets, trick or treating, and the parades. So it's a great time to ride your favorite attraction an extra time or two.
BUT… you can make FastPass+ selections between 4 PM and 7 PM on those days, since Party ticket holders are allowed in the gates early at 4 PM, before the official event starts.
Q: Which special characters are available for meet and greets during the party? Do the lines tend to be long? 
There are plenty of characters to meet, and some you can't see any other time. In some cases, lines can get very long. The Seven Dwarfs, Santa Claus, and Jack Skellington are especially popular. If these character meets are important to you, get there early — as in, before the party starts early.
These are the characters scheduled to appear for 2016 by their locations. These are subject to change — this list will be updated as more information is available.
Main Street, U.S.A.: Santa Claus, Mickey Mouse, Tinker Bell.
Adventureland: Aladdin, Jasmine, Genie and Abu, Captain Jack Sparrow, Peter Pan (roaming).
Frontierland: The Country Bears (roaming) Liberty Square: Jack Skellington as Sandy Claws.
Fantasyland: Ariel, Rapunzel and Flynn Rider, Cinderella and Prince Charming, Belle, Pooh and Friends, The Seven Dwarfs, Snow White and her Prince, Aurora and Prince Phillip, Princess Elena of Avalor, Minnie Mouse, Scrooge McDuck, Donald and Daisy, Santa Goofy, Mary Poppins, Bert, Princess Tiana and Prince Naveen.
Tomorrowland: Nick Wilde, Judy Hopps
Q: Where is the best place to find exclusive merchandise during the party?
A: One of the easiest places to find items is The Emporium, but check out Big Top Souvenirs as well.