The Hoop-Dee-Doo Musical Revue is a long-running dinner show held nightly at Fort Wilderness' Pioneer Hall. My brother remembers taking my niece there as a baby and she's getting married next year! We've never seen it ourselves, though, and finally got the chance to do so this fall, when we stayed at The Cabins at Fort Wilderness.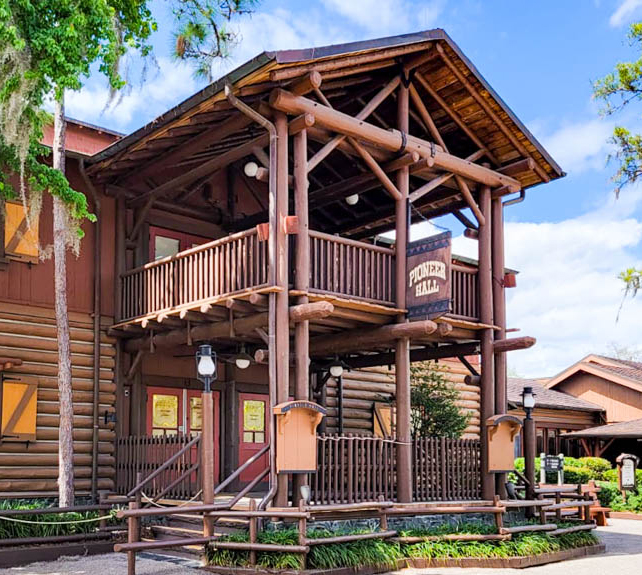 You can attend Hoop-Dee-Doo whether you're a Fort resident or not, of course, but getting there can be an extra hassle. There's a boat to and from Magic Kingdom, so that's one option. And of course Disney's buses go to the Fort, but only to the front of the resort. Fort Wilderness is HUGE. So many camping sites, cabins, and facilities. Pioneer Hall is located in the Settlement area, and that's almost a mile away from the front of the resort. You can't park your car at the Settlement, so you need to use the internal bus system to get there, or, if you're staying at the Fort, you may have rented a golf cart for the duration of your stay there and you can get there that way. Lastly, there's always Disney's Minnie Van service, which will take you directly to the Settlement bus stop and pick you up from there as well, but that, of course, is at an additional cost.
The Hoop-Dee-Doo Musical Revue dinner show happens three times a day, at 4 PM, 6:15 PM, and 8:30 PM. Reservations are required, can be made. 60 days in advance, and must be prepaid. Pricing, as of September 2023 (this is subject to change at any time):
Category 1: Adults $74, Children 3-9 $44
Category 2: Adults $69, Children 3-9 $40
Category 3: Adults $66, Children 3-9 $39
Note that wheelchair-accessible seating is located in Category 1 and Category 2. Category 3 seating is located on the second floor of Pioneer Hall, which has no elevator access. Prices include tax and gratuity.
Here is a diagram of the seating, from the Walt Disney World site: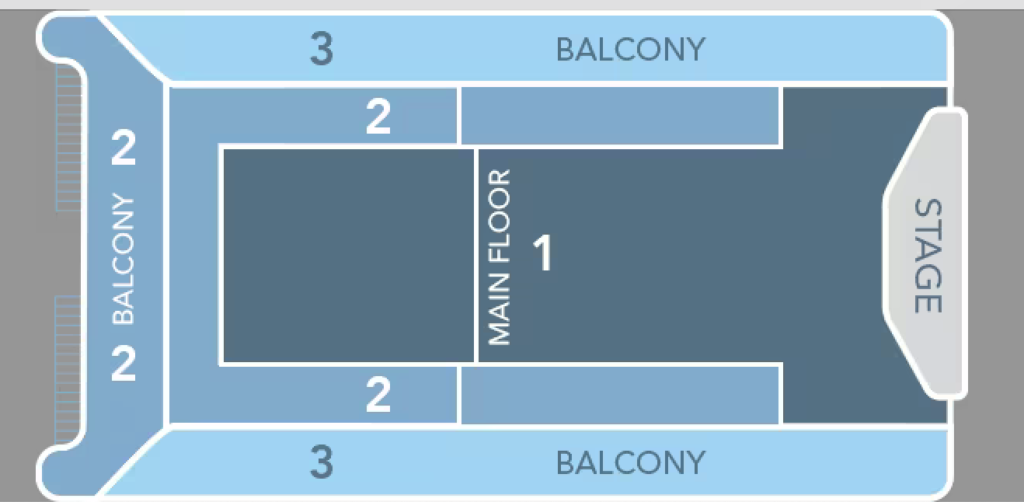 We had the misfortune of going to Hoop-Dee-Doo on an evening when it was pouring rain. Worse, the procedure to go into the show involves going back behind the Hall to get your table assignment/ticket, out in the pouring rain, then scurrying back to the front to crowd under the awning and wait to be seated. My husband and I had ponchos on, thank God, because it was a deluge. I wish there had been a better way to handle that process that didn't involve us being almost washed away.
We attended the 6:15 PM show, and sat in the balcony, in Category 3. I had done some research and poked around on Google, and thought the view from upstairs would be good — and it was: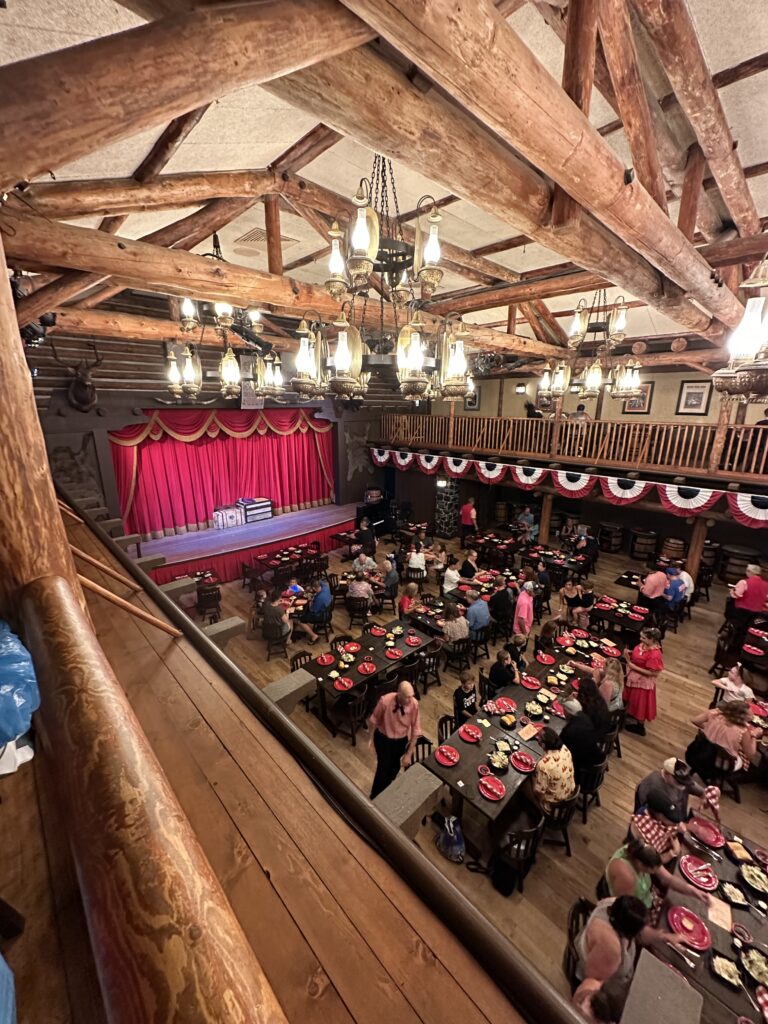 We could see the stage very clearly and the performers also circulated in the audience, both upstairs and downstairs.
The one thing I didn't like about sitting in Category 3, though, ended up being the difficulty of eating and watching the show at the same time. Downstairs you pick what side of the table you're on and can sort of turn a bit each way. Upstairs, you can only sit facing away from the stage at your table. All the seats (including those downstairs) swivel all the way around so you can watch the show that way. But I'd assumed that dinner and the show itself would happen at separate times, and truthfully they overlapped. At one point I was torn between eating, or watching the show and letting my food get cold. I should also mention that as a person with back problems, I found the chairs to be profoundly uncomfortable. The good thing about being upstairs with no one behind me, then, was that I could stand up and stretch when I needed to.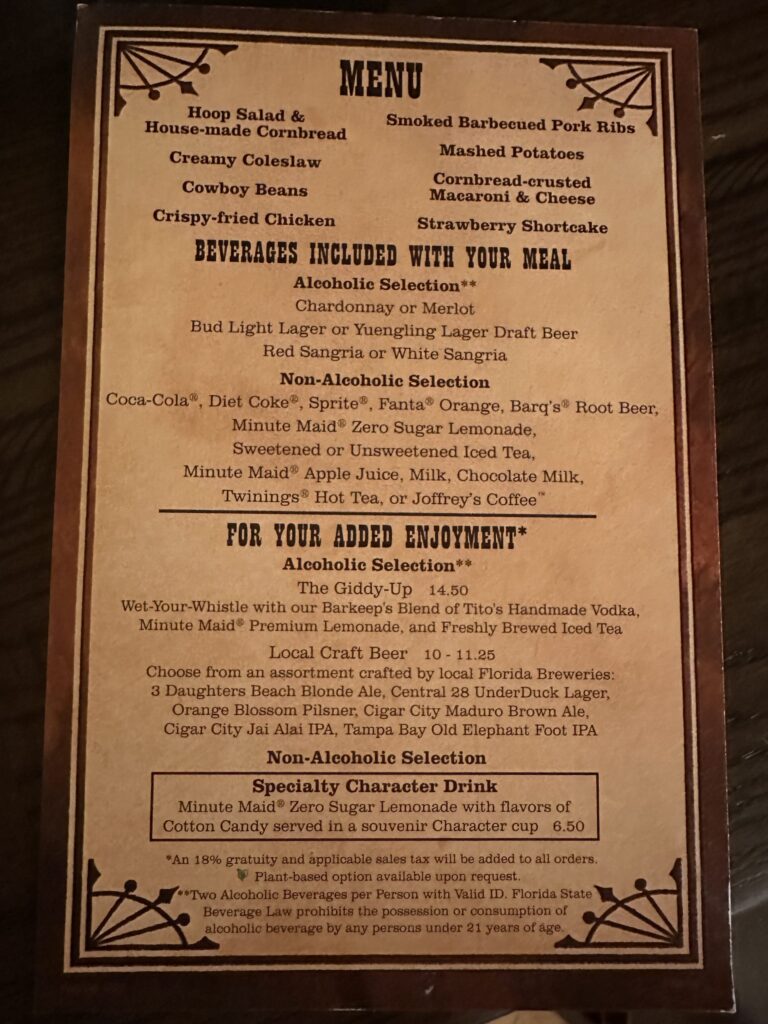 There's a set menu at Hoop-Dee-Doo. For a picky eater like me, that's always a tough situation. It's also important to note that there are plant-based options available, as well as accommodations that can be made for those with allergies. Make sure to note this on your reservation ahead of time.
Now, I'm going say something a little negative off the bat. We had a server that was, for whatever reason, less than helpful. He didn't go over the menu with us, he didn't ask anything about preferences. We had to try a couple times to get his attention when we needed something. He wasn't rude, and it wasn't awful, but something was a little off. All I can say is, always remember to have patience and stay polite, in that kind of situation. It's Disney, but it still happens.
On to the food!
When you're taken to your table, salads and cornbread are waiting for you. There's a green salad with a vinaigrette dressing and there's also coleslaw. The salad was perfectly fine but nothing special. I did like the tang of the dressing.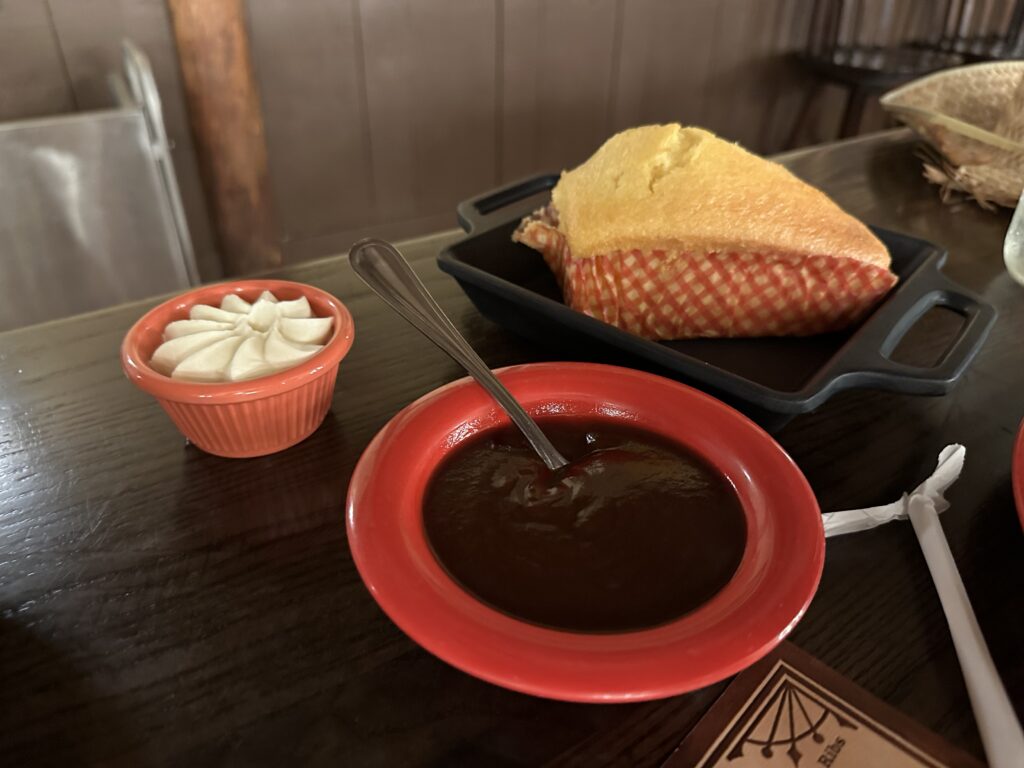 The cornbread was delicious. To be perfectly frank, I could have sat there all night and eaten loaf after loaf of it. Terrific taste, and a really nice texture. I like cornbread but sometimes it's a little too grainy. This one absolutely wasn't. The whipped butter was nice, and for those who want extra barbecue sauce with everything, there was plenty of it.
Shortly after this the performers came out into the audience to a big round of applause.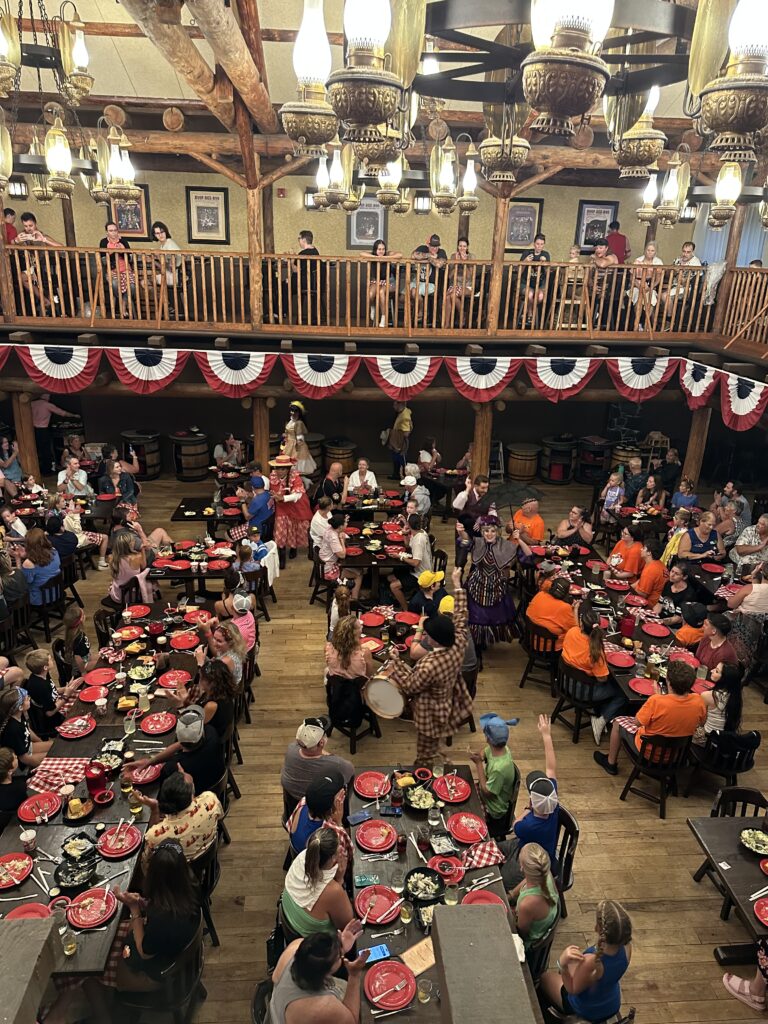 The show began, and it was very high energy. Dancing, singing, and not a few puns. Is it corny? Yes. Very. That's the charm of the show. If you're going to roll your eyes at cowboy jokes and silly skits, this might not be the show for you. But if you enjoy that kind of thing, it's very good. The cast members were all very talented and had great voices. Each went out into the audience multiple times, asking where people were from and singing out the answers. There was a round of happy birthday for anyone celebrating, as well as a nod to those there for an anniversary. One couple in our crowd had just gotten engaged. There was also a bit of audience participation at the very end, with five guests chosen from the audience.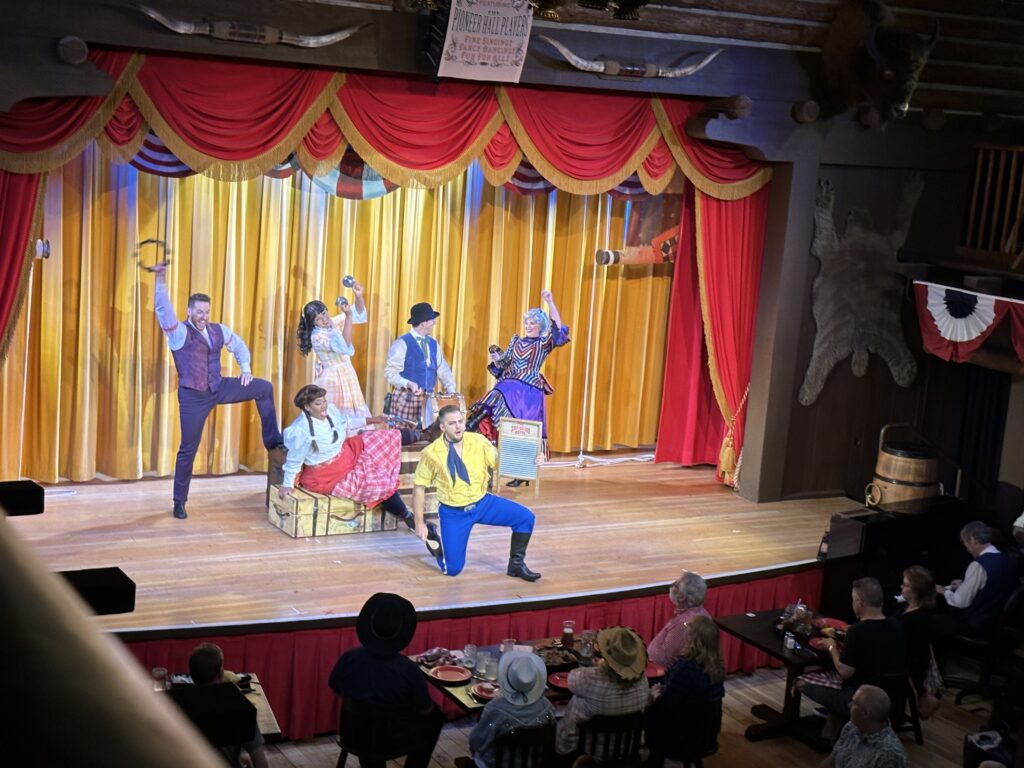 Sometime during the performance our main entree and sides were delivered. This was where I had some problems with the timing. We had to choose between eating while it was hot and missing some of the show or letting the food get cold. We did our best, but It think they could time when the food was brought out a bit better.
I'm not much of a rib eater and fried chicken isn't a big favorite of mine, but my husband had both and said they were good. The mashed potatoes were very smooth and flavorful. The mac and cheese was a very pleasant surprise. I've found a lot of cheesy mac at Disney to be watery and lacking in flavor, but this was very creamy and tasted great. You can order seconds (or thirds, even) of anything they bring you, but we were plenty full already.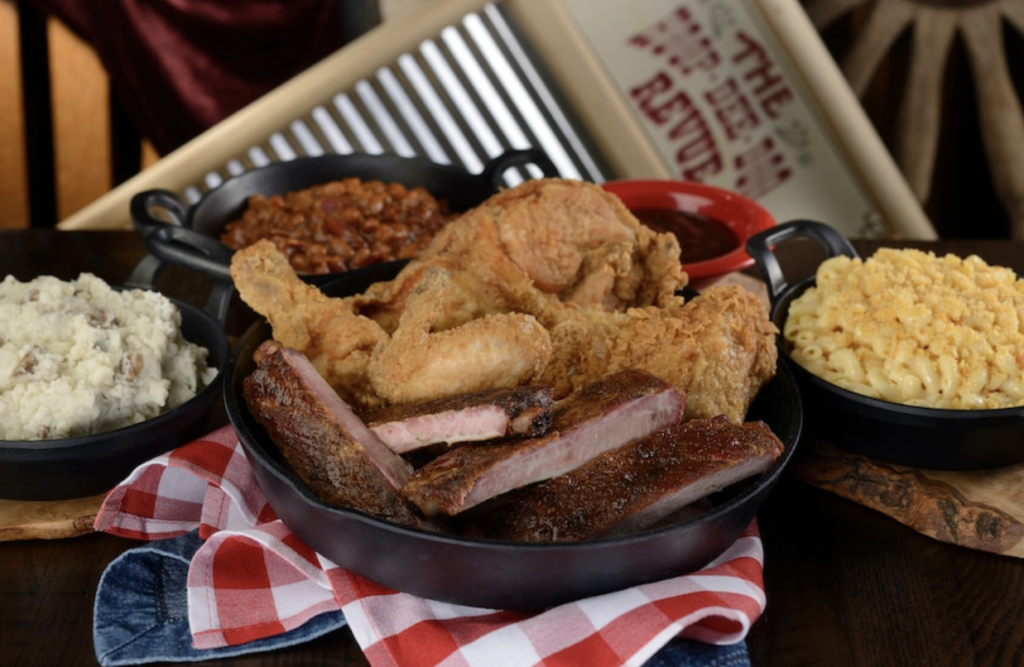 There was a break in the show here (which is when I wish they'd brought the food out) and when it resumed there was more music, dancing, and audience participation. Keep those checkered napkins handy! They also bring around some washboards for the big finale.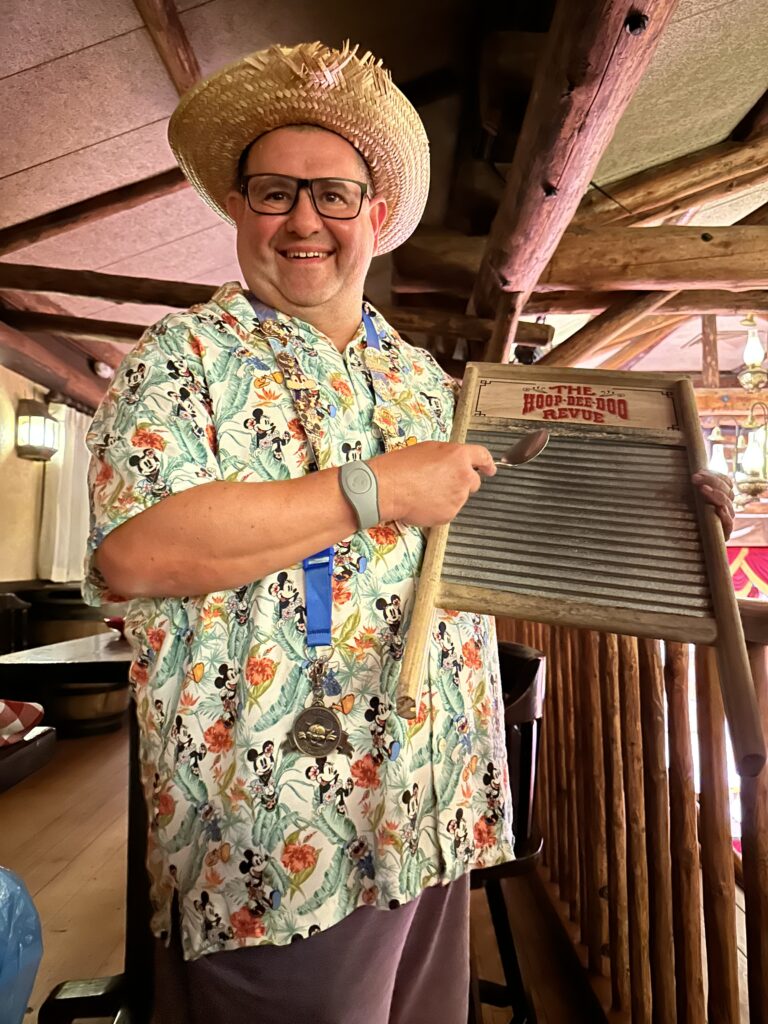 Dessert is so yummy here it has its own song — Strawberry Shortcake! I can only say wonderful things about it. The shortcake was light but tasty and the strawberries were great. We enjoyed this a lot.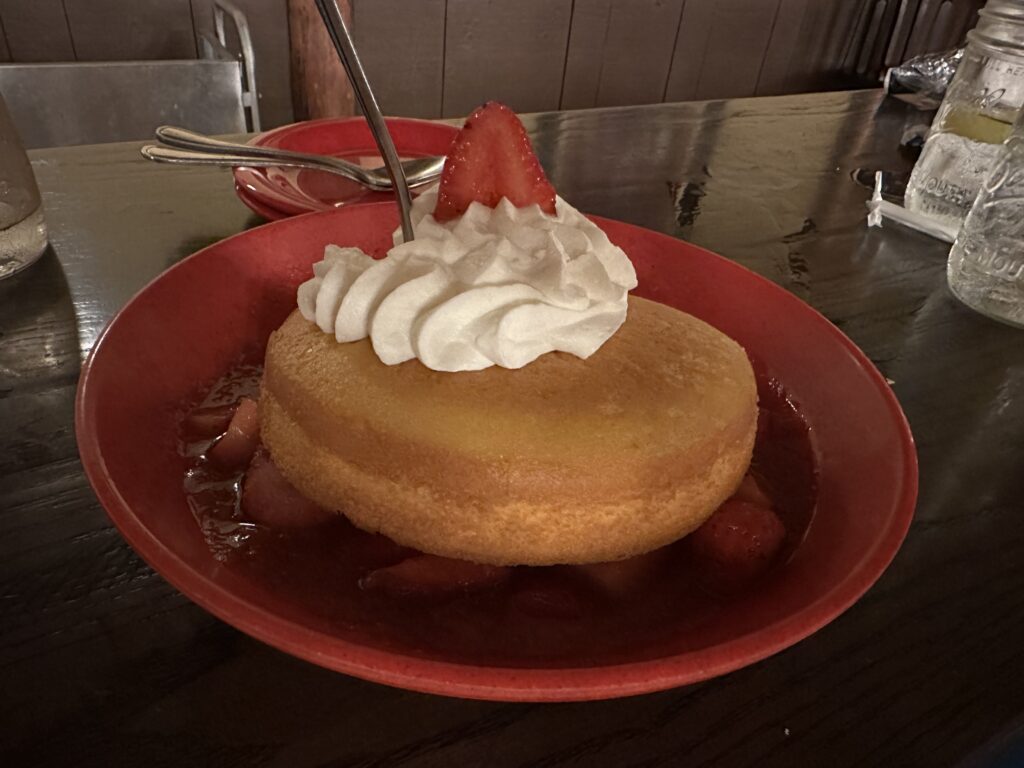 And with that, dinner was over. Hoop-Dee-Doo can be a lot of fun, and the food served is good, as long as it's to your liking. I will say I didn't leave hungry, even though I just had sides and dessert. The main negative I would say is that it's not the easiest location to get to. Once you've figured the best transport for you, though, it can be a fun evening out.
This review was written in September, 2023. Prices, options, and offerings are always subject to change.