We had a chance to visit one of Disney Springs' newest restaurants, The Edison, this fall, and it's worth a visit. The space itself is grand and fascinating. You enter on the top floor of the restaurant; we were escorted down a grand staircase and were seated on the lower level. Decor is consistent and on point, with early 20th-century Industrial and Steampunk flair.  The Edison is a family-friendly restaurant during the day, but does turn into an over-21-only venue at 10 PM, with a cover charge on weekends.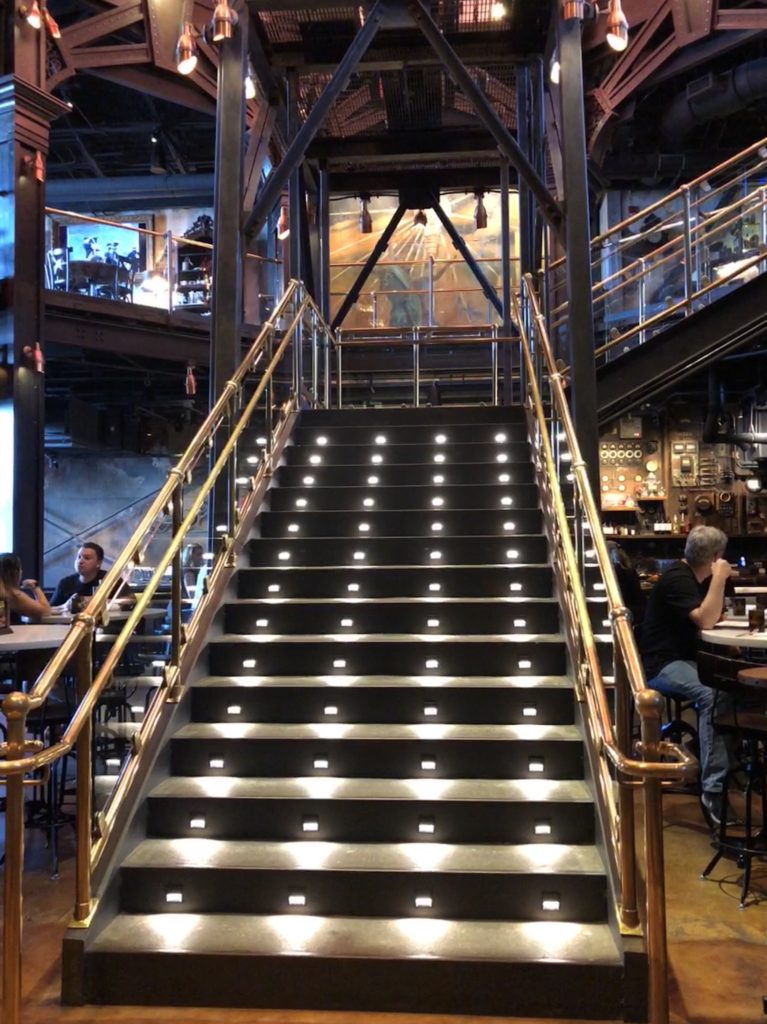 Let's get my one complaint — but a significant complaint — out of the way. The chairs.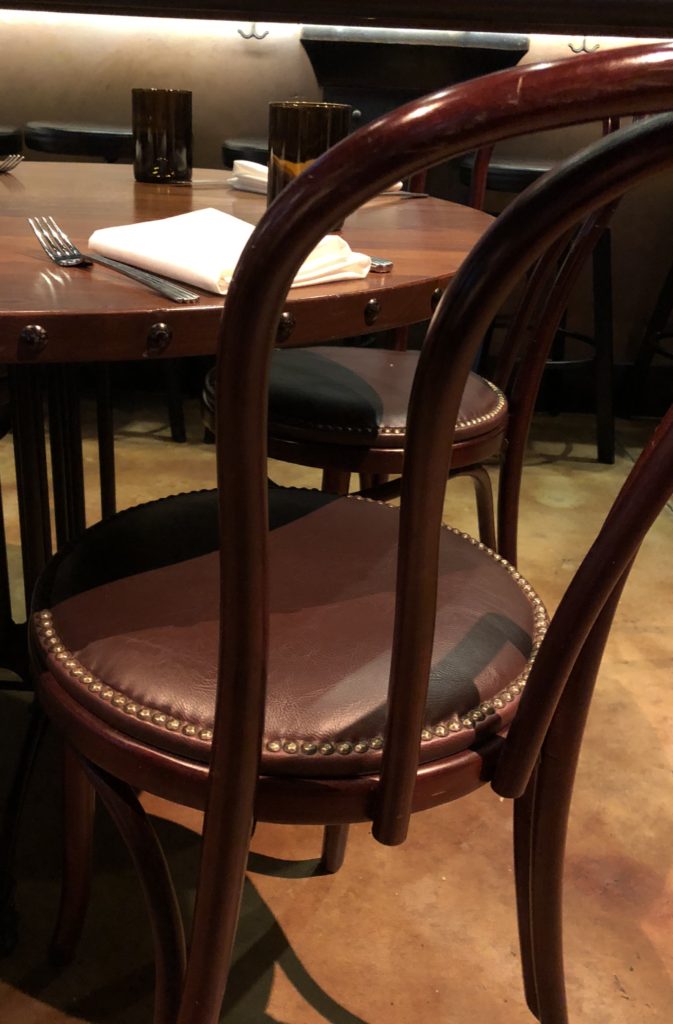 You might not be able to tell but this is the singularly most uncomfortable chair I've ever sat on. And that's saying something. The chair is fairly small. The back leans at too much of an angle, so there's no back support. The cushion … is not a cushion. It's a piece of wood. I may bring my own padding to the party, but I was no match for this rock-hard seat of agony. After a few minutes I was uncomfortable, and after an hour I was miserable. When I got up to powder my nose, and also to escape the Edison torture device I'd been sitting on, I had to crawl there at a snail's pace. I mentioned it to a server nearby and he sympathetically said, "Believe me, you're not the only one who thinks so." I'm sure I'm not, friend.
There is perfectly comfy-looking seating elsewhere in The Edison, couches and plush leather chairs. These must be prime seating in the evenings, given how industrial and uncomfortable the bar stools were, as well (I tried them out), but aren't conducive to dining. I saw some banquettes on the upper floor, and would have to request one if I were to return. And I might, given the rest of our experience.
With that said, on to, happily, the food. We started with drinks and appetizers. My husband ordered the DB "Clothesline Candied Bacon." The bacon itself was excellent, though he thought slightly too peppery. Eating it with the pickles cut that and is highly recommended.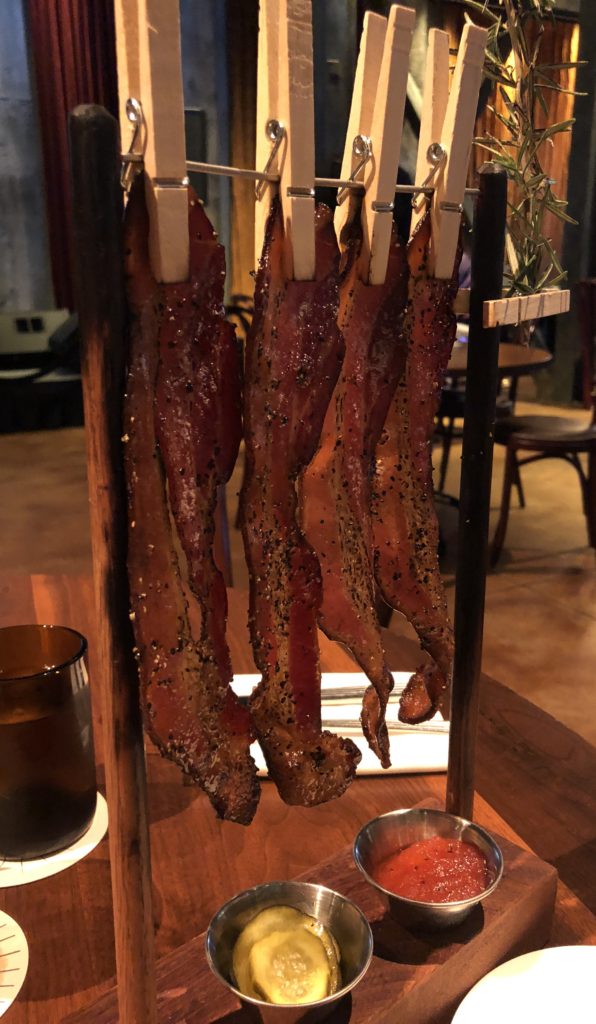 I ordered the Deviled Eggs, served on smoked prosciutto with crisp potatoes on top. I don't care for prosciutto and didn't love the pairing here, but the eggs were delicious. I loved the serving size; any more eggs would have been  too many, and fewer would have left me wanting more.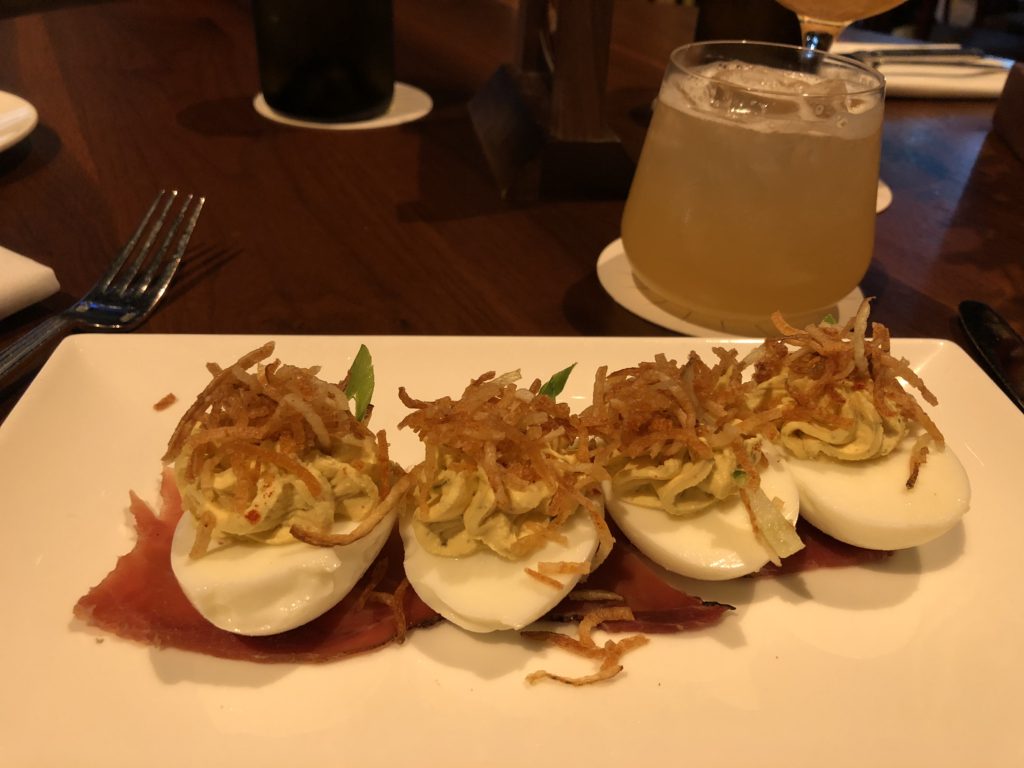 I also ordered a mocktail, the Apple Propellant (pictured above). I'm baffled by this drink. The ingredients were listed as "fresh cider, lemon, honey & ginger, and ginger ale." I loved every single one of those flavors, but what they brought me tasted like grapefruit juice and nothing else. It was very strange. They were great about bringing me a plain ginger ale in its place, though, so all was well that ends well.
Moving on to entrees, I ordered the Organic Tomato Soup and Gooey Grilled Cheese. The grilled cheese included Fontina, Muenster, Gruyère, and Alpine Swiss. The portion size on this was ENORMOUS. It was essentially two grilled cheese sandwiches piled up on top of each other. The sourdough bread had a great buttery crunch to it. The soup was terrific as well. I'd recommend this highly to anyone looking for a filling, yummy dinner.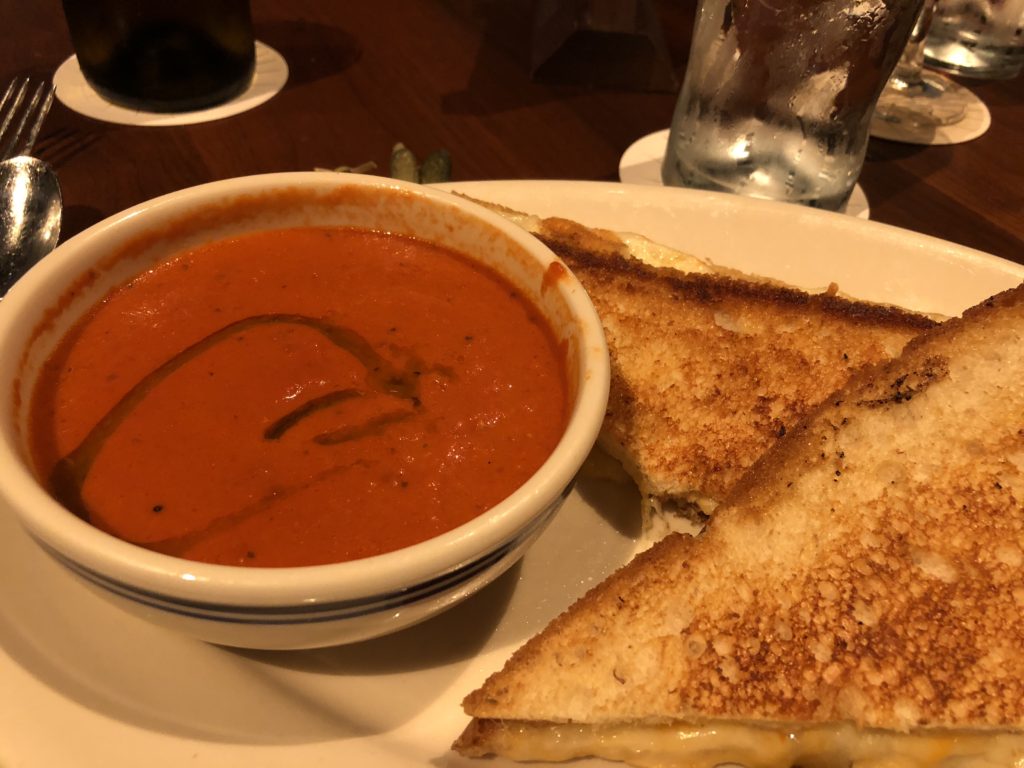 The Edison has a "burger of the month" special, and when we were there in September, it was the Croque Burger, which my husband very much enjoyed. The Croque Burger featured a beef blend burger of sirloin, short rib, and brisket, and this was topped with honey mustard, maple cured ham and Swiss on sourdough bread that has been dipped in egg then grilled. This was not a burger you could pick up; he ate it with a knife and fork and said it was wonderful. The maple and the egg in the bread really stood out.
The portion size, again, was ginormous. I happened to peek at the 28-Day Aged Prime Rib King Cut, ordered at a table nearby, and it was so huge it was dropping over the side of the plate, and accompanied by the largest popover I've ever seen. Apparently, you need to come to The Edison hungry.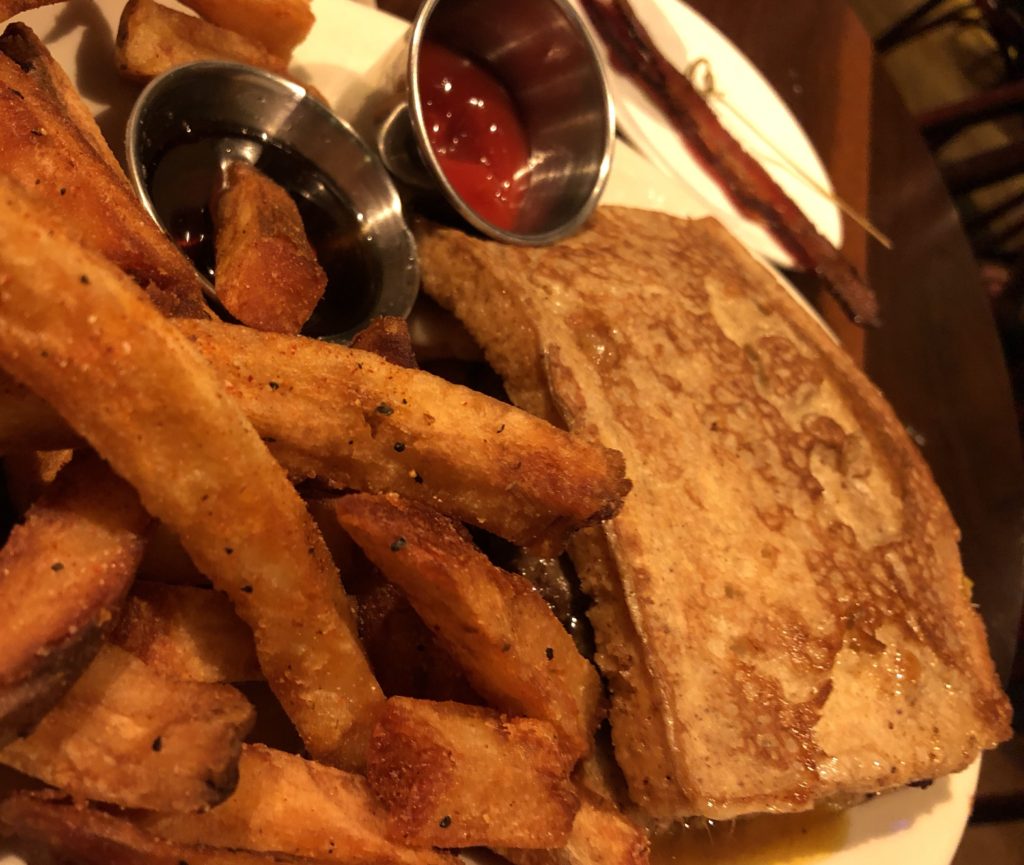 We didn't come close to finishing our entrees, either of us. I wanted to leave a little room to try to Lollipop Tree of cheesecake pops.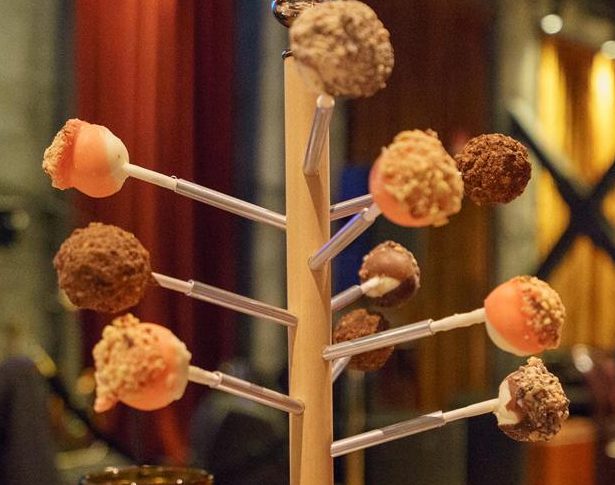 This was a little disappointing. First, it came with this "bubblegum whipped cream," not pictured here because the Pepto-Bismol color was unappetizing to the extent that I didn't want to look at it while I enjoyed dessert. The cheesecake pops themselves were fine. Small, not especially flavorful, creamy, and fine, but not anything I would order again.
Our dinner was at 6 PM, and live entertainment does not start, I was told, until 9 PM. Music is live, varied, and from everything I'm hearing, well worth hearing. But even during the day, though, there's an atmosphere. A young man dressed in Steampunk fashion was making the rounds of tables in the dining room, visiting with guests for quite some time. I didn't catch much of what he was saying, but he introduced himself as an investor. This young lady came striding out of the back room of the restaurant (I still can't figure out how she got through that small door!) and went outside to greet guests as they arrived.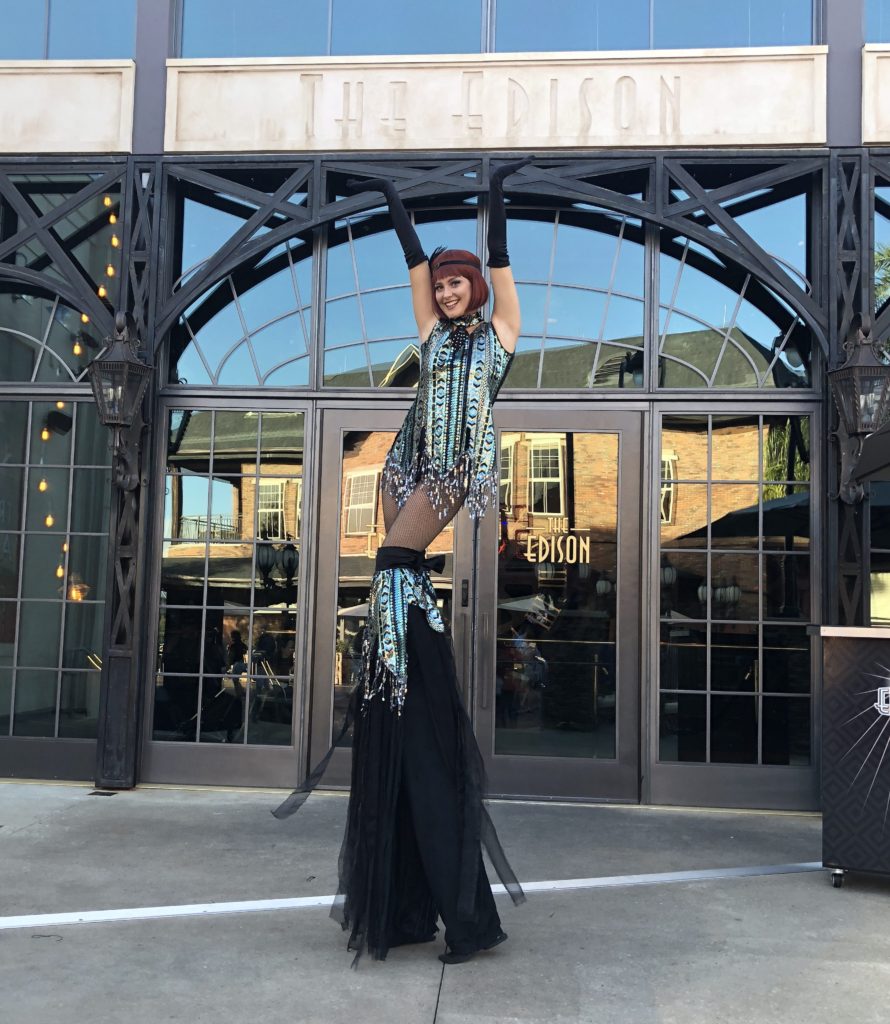 The Edison has a unique theme and is a welcome addition to Disney Springs. It's great to have something with such a definitive point of view to break up the sometime-monotony restaurants that seem all too similar to each other. The food is good and generously sized, and the service was good. I'd definitely go back for another visit, but I might just bring my own cushion.