The brand new trailer for Walt Disney Animation Studios' Moana is now available! The film, stars Auli'i Cravalho as Moana and Dwayne Johnson as Maui and opens in theatres in 3D on November 23, 2016, just in time for Thanksgiving.
Filmmakers auditioned hundreds of talented young women throughout the Pacific Islands before finding the gifted Native Hawaiian Auli'i Cravalho, who had not even pursued the coveted role. The film's Hawai'i-based casting director recalled her singing performance from a video submission for a fundraiser and asked Auli'i to come in and try out. Three auditions later, including her first trip to Burbank, CA, she earned the title role, thanks to raw talent.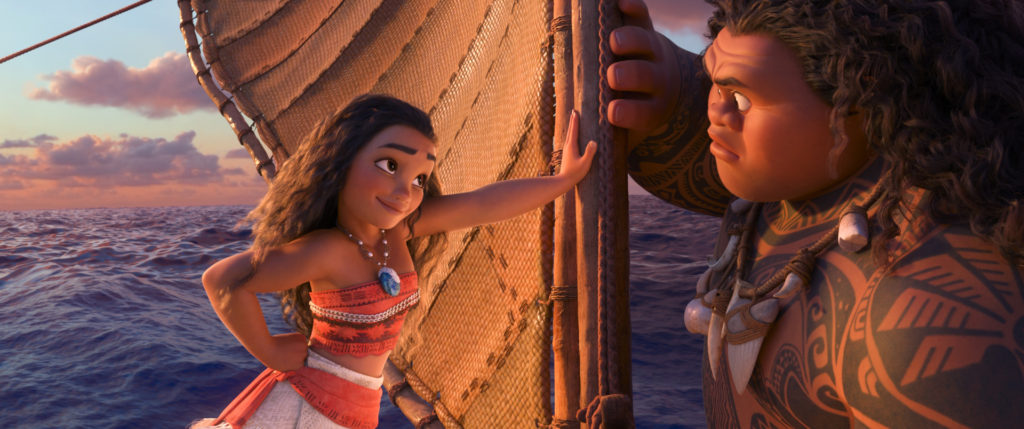 The diverse and dynamic team behind the film's inspired music includes Tony®- and Grammy®-winning lyricist/composer Lin-Manuel Miranda, creator of Broadway's Pulitzer Prize-winning and multiple Tony-winning Hamilton and the Tony-winning In the Heights, and is a 2015 MacArthur Foundation Award recipient. Three-time Grammy®-winning composer Mark Mancina created memorable scores for films like Speed, Tarzan and the Oscar®-winning Training Day, and also co-wrote songs, produced and arranged the score for Broadway's musical production of The Lion King.
The brand new trailer for Walt Disney Animation Studios' Moana opening 11-23-2016 is now available!
Click To Tweet
Here's what Moana is all about:
Three thousand years ago, the greatest sailors in the world voyaged across the vast Pacific, discovering the many islands of Oceania. But then, for a millennium, their voyages stopped – and no one knows exactly why. From Walt Disney Animation Studios comes "Moana," a sweeping, CG-animated feature film about an adventurous teenager who sails out on a daring mission to save her people. During her journey, Moana (voice of Auli'i Cravalho) meets the mighty demigod Maui (voice of Dwayne Johnson), who guides her in her quest to become a master wayfinder. Together, they sail across the open ocean on an action-packed voyage, encountering enormous monsters and impossible odds, and along the way, Moana fulfills the ancient quest of her ancestors and discovers the one thing she's always sought: her own identity.
Moana sails into U.S. theaters on Nov. 23, 2016. For more information, visit http://disney.com/moana, like us on Facebook, https://www.facebook.com/disneymoana; follow us on Twitter, http://www.twitter.com/DisneyAnimation; follow us on Instagram, https://instagram.com/DisneyAnimation.