We love the fireworks show at Magic Kingdom, Happily Ever After, and we're always looking for new and different ways to view the show … especially since that front-of-the-castle mob scene can be exhausting! We've tried watching from Fantasyland, from the deck of California Grill, from 'Ohana at the Polynesian, and soon will be attending the dessert party at Magic Kingdom. This last trip, though, we tried something outside the box: we had dinner at Cinderella's Royal Table during the show.
To start with, some tips on how to watch Happily Ever After from the castle. Once you pick a day to go, find out what time Happily Ever After is scheduled for that night and then try to get a reservation for Cinderella's Royal Table for dinner shortly before that time.  This can be a tough-to-get reservation, so you have to make it a priority when you can make dining reservations 180 days before your trip. Once you get the reservation, make sure to re-check that timing of the fireworks show when it gets closer to your trip. Times can change, and you'd need to make adjustments.
Cast Members will start roping off access to the castle as much as an hour before the fireworks show, so leave yourself plenty of time to get to Cinderella's Royal Table, which is located in the rear of the castle. We had been shopping on Main Street, for example, and at 8 PM started heading to the restaurant. Front and side entrance to the castle was already roped off, and we had to go around the long way either through Liberty Square or down by the tea cups, and for the most part, you're going against the crowdflow. We had plenty of time to get to our 8:30 reservation, but were glad we'd left early. Even when you reach the back, you'll need to let them know you have a dining reservation or you won't be let into the roped-off area around the castle. At your reservation time you'll be checked in and taken in to meet Cinderella, and then escorted up to your table. For an ideal view of the fireworks, you'd want to be seated at the windows.
Unfortunately, Cinderella's Royal Table does not take seating requests of this nature. As we and every other person who asked was very politely told, it's simply not possible due to the fact that almost everyone would make this request. You'll still be able to see from a great many tables in the restaurant, but the window spot is definitely best. You've just got to cross your fingers and hope for a little pixie dust on this one. Here's a bit of information, though — there are a number of two-person-only tables at the windows. At least one or two four-tops as well, but because of the small, angled space, it seems like the restaurant tries to take advantage of every bit of space and sort of crams those tables in there. So if you're just a party of two … you might stand a better chance. Still not a guarantee, though — we saw couples seated at four-tops elsewhere in the restaurant.
When Happily Ever After begins, the princesses leave the dining area and the music and voiceover from the show is piped in to the restaurant. The fireworks begin and you have a truly magical view.
Some of the fireworks are shot off behind Fantasyland and you have a perfect view of those here. Others shoot off from the castle itself, literally right above your head! It isn't too loud but it can be dazzling.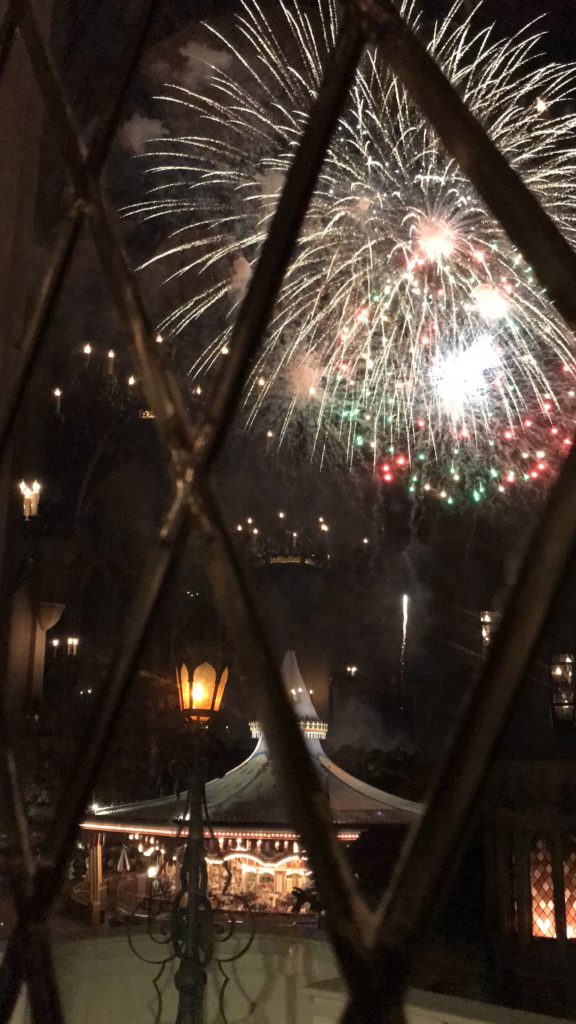 Obviously, you miss the castle projections that are part of what tells the story of Happily Ever After — you're in the castle they're being projected on. I certainly don't recommend skipping those entirely, so catch the show with a clear view of the projects another time. But if you're looking for a different experience, I very much recommend this one.
A bit of video from the show — you'll hear a lot of "Oh mys!" from a young lad seated nearby. We were all glued to the view.