UPDATED 3/2023
A few years ago I published an article in two parts on how to use an ECV, also known as a scooter, as Walt Disney World. These can be found here (part 1, the basics) and here (part 2, don't stress and here's why). There are some updates to WDW policy and recommendations I'd like to share with you. And remember, if you have any hesitancy about using a scooter, maybe because you feel funny or a little embarrassed (and you shouldn't, but we all know how it is), please make sure to read part 2 because I give a great pep talk. 🙂
You can still rent ECVs from Disney right at the Parks, each day. The current cost (as of 3/2023) is $50 per day, plus a refundable $20 deposit. You can also rent them at Disney's Water Parks and at Disney Springs, but the refundable deposit there is $100. Park-owned scooters are fine and a good choice if you drove there, just need a scooter for the day, or don't want to have a scooter on Disney transportation. Disney's scooters were all replaced with newer models in early 2023, and these are, in my opinion, a big improvement over the older machines. The seat is comfortable and the steering column's tilt can adjust back to reach you as desired (This helps me, personally, hugely with recline). Most importantly, the old models were four-wheeled and had limited maneuverability. The new scooters are three-wheeled and have a great turning radius. However, some drawbacks remain. You cannot prebook or reserve the WDW scooters. They do sell out early at Magic Kingdom in particular, however, so keep that in mind. Also, they do go a bit slower than offsite models. Still, it's a good, solid choice if you need it, and very simple to rent one.
Using a Scooter at Disney World: part 3, updates and recommendations
Click To Tweet
You can also rent an ECV from a third-party vendor and there are many to choose from. I'm going to talk about the three I have the most experience with here. The biggest change to be aware of, though, is that as of 2020, the only third-party vendor that can drop off your ECV at your onsite resort so that it is waiting for you when you get there (and likewise, you can return it to Bell Services any time before you go) is ScooterBug. ScooterBug is Disney's Featured Provider, which means they have an exclusive contract with Disney for delivering ECVs directly to the resort. You can learn more, and make a pre-order, here.
I have rented from ScooterBug a number of times. It is convenient to have the scooter waiting for you at Bell Services, that's for sure. We drive to the Parks, and aren't always exactly sure what time we're arriving, or departing. They have several different models available, as well as a variety of accessories. If there's a problem, Disney can work with you to remedy it. Once, for example, the wrong model scooter was delivered (more on scooter selection in another post coming soon), and Disney was able to arrange for ScooterBug to drop off the correct one later, while we made do with the other and headed straight to the Parks. We made the tradeoff later. Their scooters are in decent shape, but not shiny and new. I had problems with a battery dying on me in EPCOT once, and they were able to meet me in the Park with a new scooter. Their basic seat backs aren't adjustable, and their ECVs do show some wear and tear.
Another third-party company I've rented from is Buena Vista Scooter Rentals. They also have various models and accessories, but I feel they're less than top tier when it comes to quality. I noticed a lot of wear, as well as had issues with the scooter stalling out unexpectedly — once in the middle of Rise of the Resistance, and I was humiliated to be delaying the ride for everyone. The cup holder attached to the arm and kept tilting over to the side, and ended up being unusable. Another issue is pickup and delivery. Buena Vista can't leave the scooter at Bell Services like ScooterBug can; none of the other third-party providers can. But Buena Vista has a very set schedule of times they will bring you your scooter or pick it up. These times weren't always especially convenient for us and we had to change our plans more than once to work around them.
The third-party company I most highly recommend is Gold Mobility. And to be honest, I doubt I'll ever rent from anywhere else again. Using their ECV (and I rented the Pride VICTORY 10 3-Wheel Mobility Scooter) after renting other third-party scooters felt like going from a Yugo to a Cadillac. They replace their scooters every nine months, so you're always in the newest product.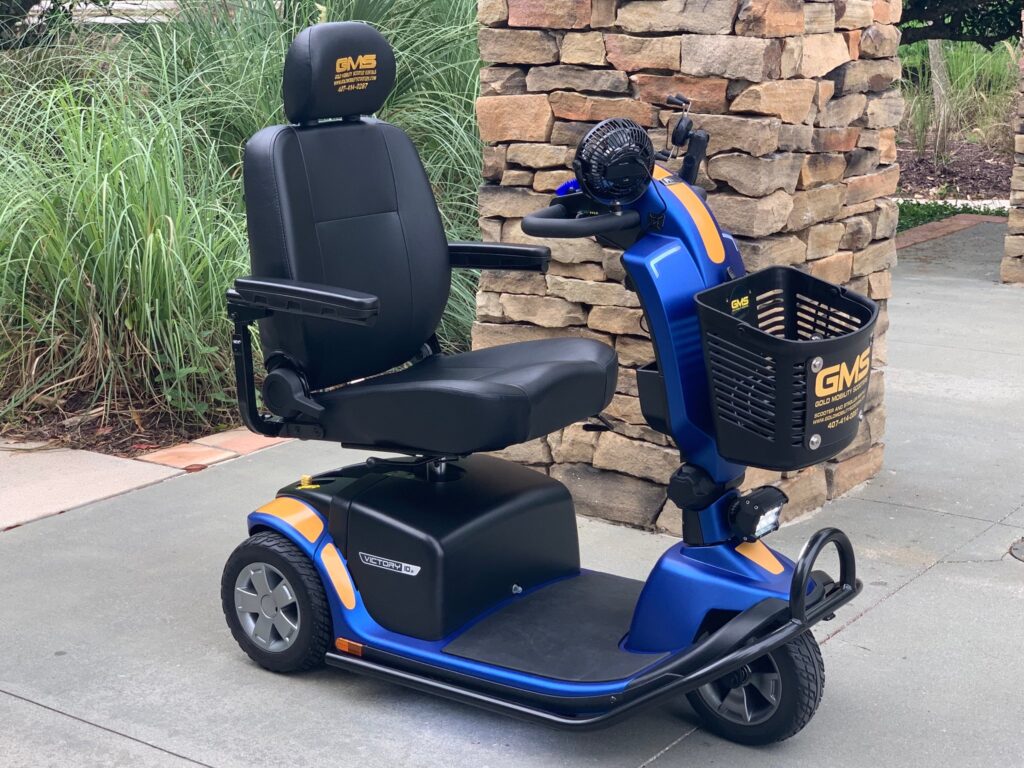 All Gold Mobility scooters come with a fan, front basket, cell phone holder, drink holder (more on that in a second), and a USB port by default, as well as all the usual features such as a battery, rain cover, ponchos, etc. I didn't think I'd use the cell phone holder but I did, a few times — just remember not to park your scooter and leave your phone behind. You can add a cane, walker or oxygen holder or a rear basket at no cost. Victory 10 scooters can add a sunshade. The scooters are so well cared for it feels like they just came off the factory line. New, clean, and very comfortable.
The seat on the Gold Mobility scooter is fully adjustable. This was a huge plus for me. Other scooters I'd rented did not allow me to change the tilt of the seat back. The Pride Victory 10's seat could lean quite far back or be more than upright. As a person who absolutely needs back support, this was vital for me. I've finished scooter days in agony because there was no support from a non-adjustable seat that was set at too much of a recline. Not the case at all with Gold Mobility's scooters.
And the cup holder! I know this seems like a small thing to be excited about, but it's so conveniently placed below the steering wheel, roomy but snug enough that you don't have to worry about your drink being jostled.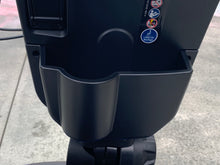 Gold Mobility can't leave your scooter with Bell Services, but they do offer "white-gloved personalized delivery." This means *you* get to pick your delivery and pick up time, no need to work around their schedule. A very polite employee of the company brings it right to your resort at whatever time you specify, and answers any questions you might have.
Now, one caveat. Gold Mobility only rents their scooters by the week, not by the day. If you only need the scooter for four or five days, for example, they'll come pick it up at that time, but you're still paying the one-week rate. That gave me some pause at first, but truth be told, the cost difference isn't much. All the ECV rental companies work on a sliding scale so that the first day is the most expensive, and the last the least. In other words, the difference between paying for five days and seven isn't much no matter where you go.
These are only three of the third-party ECV rental companies out there, and there are quite a few more (Walker Mobility, Apple Scooters, etc.) Look around for reviews on those or try one of the companies mentioned above to find what suits you the best.
COMING SOON: Part 4, how to choose the right ECV for you.