We loved this private tour so much, we've taken it twice! Savor the Savanna at Animal Kingdom is a guided tour where you can enjoy the sights, sounds, and tastes of Africa.
The tour has a maximum of 12 persons (over the age of eight), which means it's bound to be a small, intimate group. Amazingly, our first time through back in 2019, we were the only two people on the tour! These days, though, now that enchanting extra experiences are up and running again at Disney, that's very unlikely to happen. Our second tour was full, but I will tell you it made for a fun-loving and congenial group. We loved getting to know everyone on our tour, as well as the excellent Cast Members who guided us.
Our tour began at 4:30 in the afternoon (times may shift depending on the time of year). We were asked to check in at least 15 minutes before that time at this booth just outside the entrance to Kilimanjaro Safari.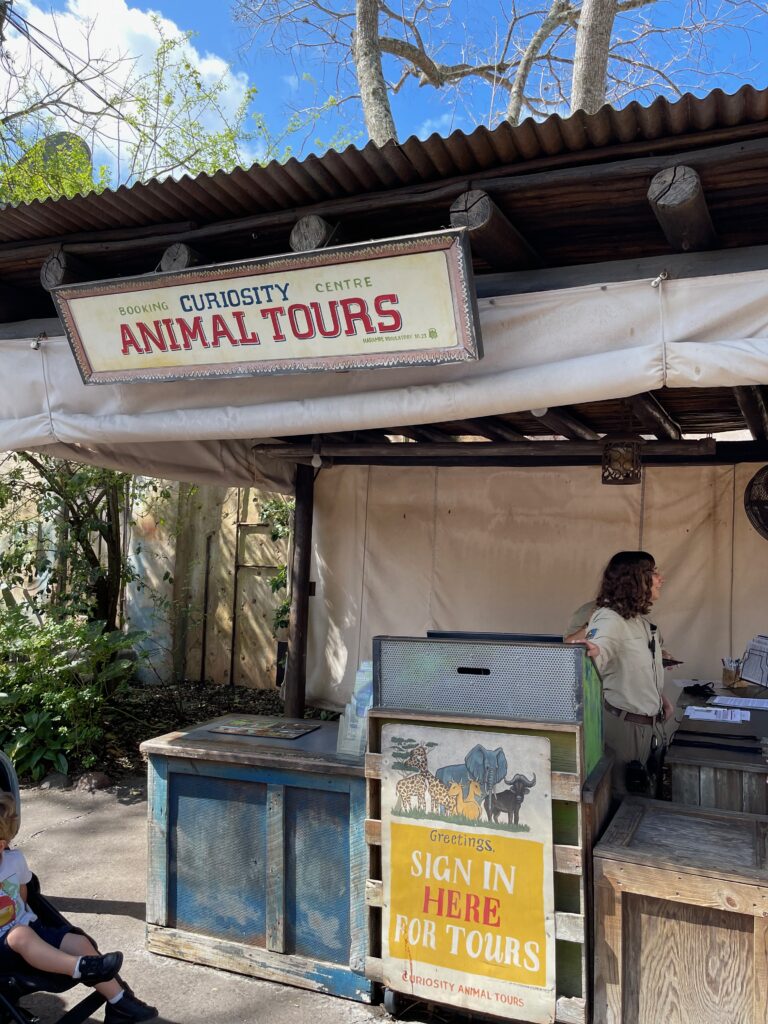 There was a quick form to read and sign and we were ready to go. Entering through the safari ride area, we got onto a special vehicle that would take us out onto the savanna, utilizing slightly different paths than the regular ride vehicles. The Savor the Savanna bus has seats in a u-shape around the perimeter. There is a little jostling around to be aware of. I have a less than perfect back, so I made sure to sit in a corner where I could better brace myself. Meg, our guide, was seated next to me.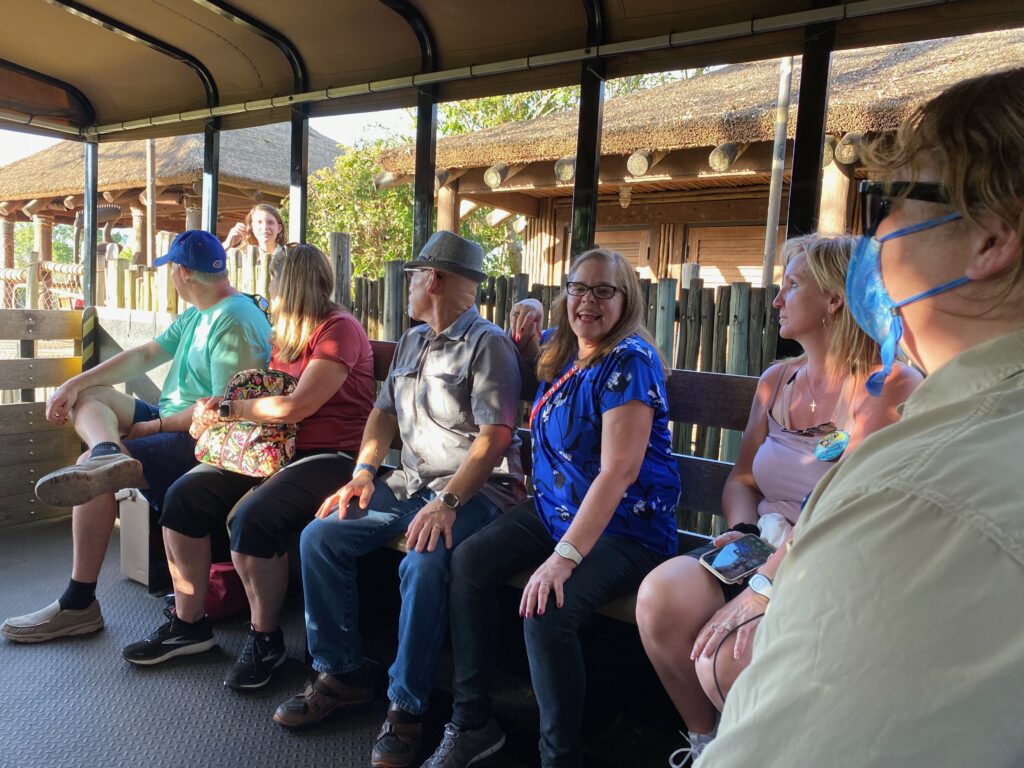 The adventure begins with a drive through the west savanna where we saw plenty of animals — wildebeests, rhinos, and of course giraffes.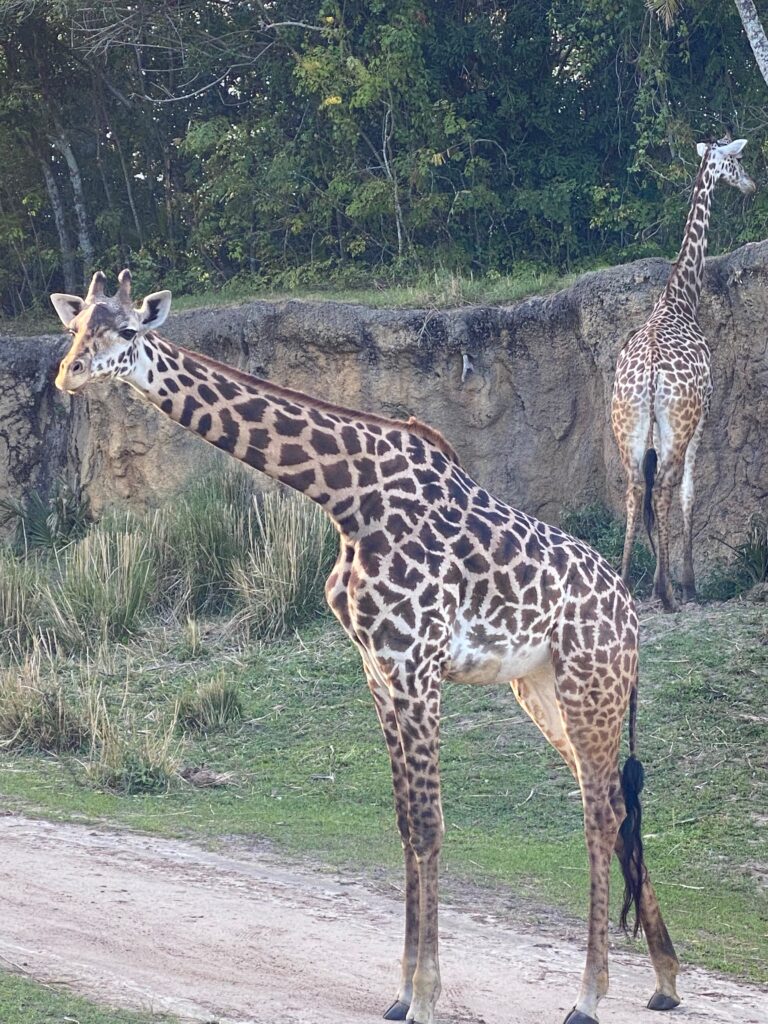 We also got a chance to speak with one of the savanna's zookeepers, where we were encouraged to ask any and every question we had about the savanna and the animals that live on it. We definitely had a lot of questions! We also got to get a lot closer to those giraffes by taking a different road than the one regular safari vehicles follow.
Review: Savor the Savanna at Animal Kingdom is a can't miss tour!
Click To Tweet
Then it was time to head to our boma right there on the savanna — if you've taken the regular safari tour you've surely seen it in the distance.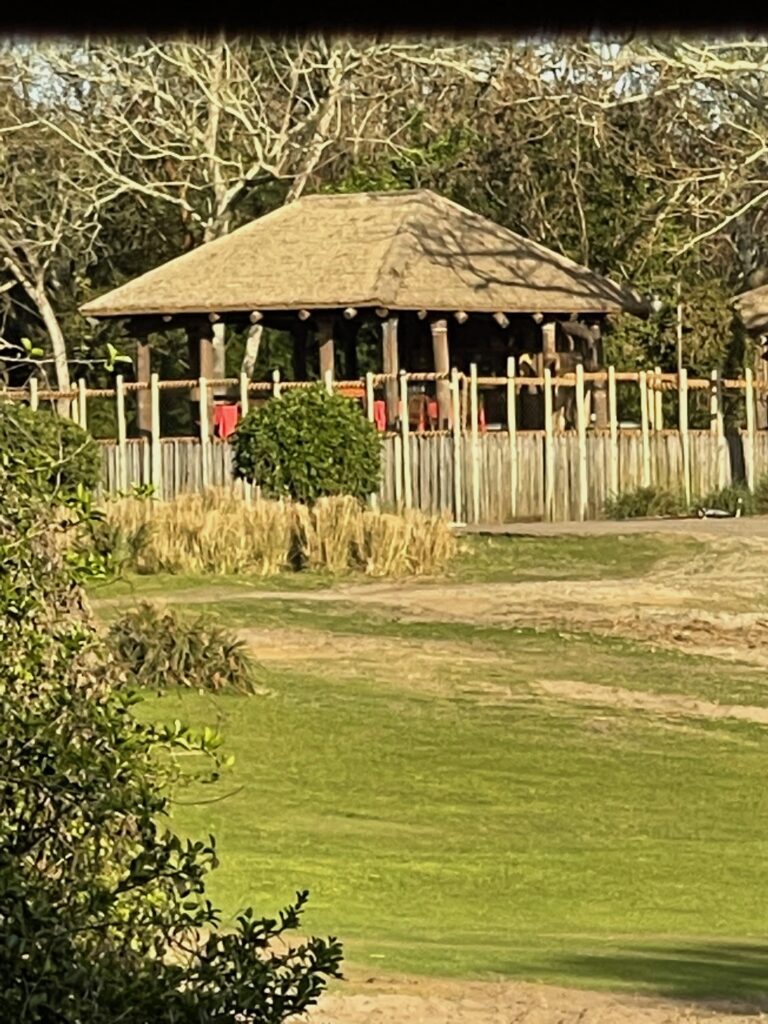 Here, cast members treated us to a yummy tapas-style meal, with a sampling of African-inspired cuisine, paired with a selection of regional beer and wine offerings. And there was also a never-ending supply of POG juice, aka Jungle Juice, the most delicious fruit drink every Disney fan knows and loves.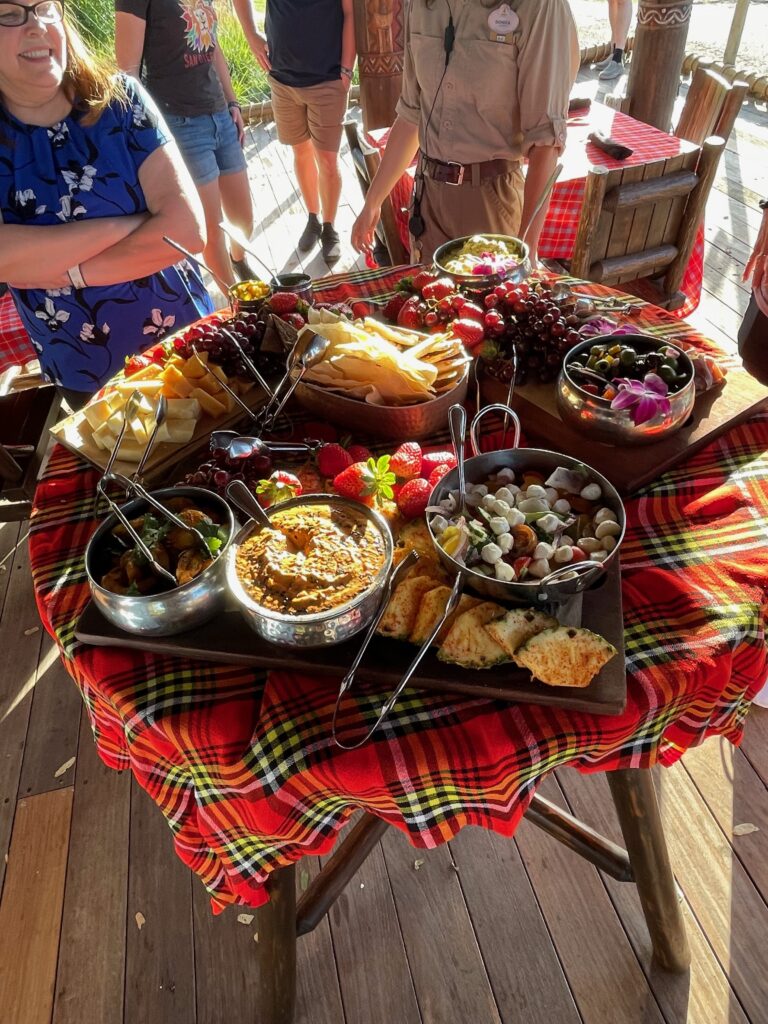 We were welcome to as much as we cared to eat, though with a full tour we did run out! There was dessert offered as well. Our guides were on-hand to answer any questions we might still have. There is also a restroom available at the boma, which was a welcome amenity.
Soon it was time for the second part of our tour, traveling through the east savanna and getting a chance to see elephants, cheetahs, and the safari's famous three lions. We caught the male waking up from a nap: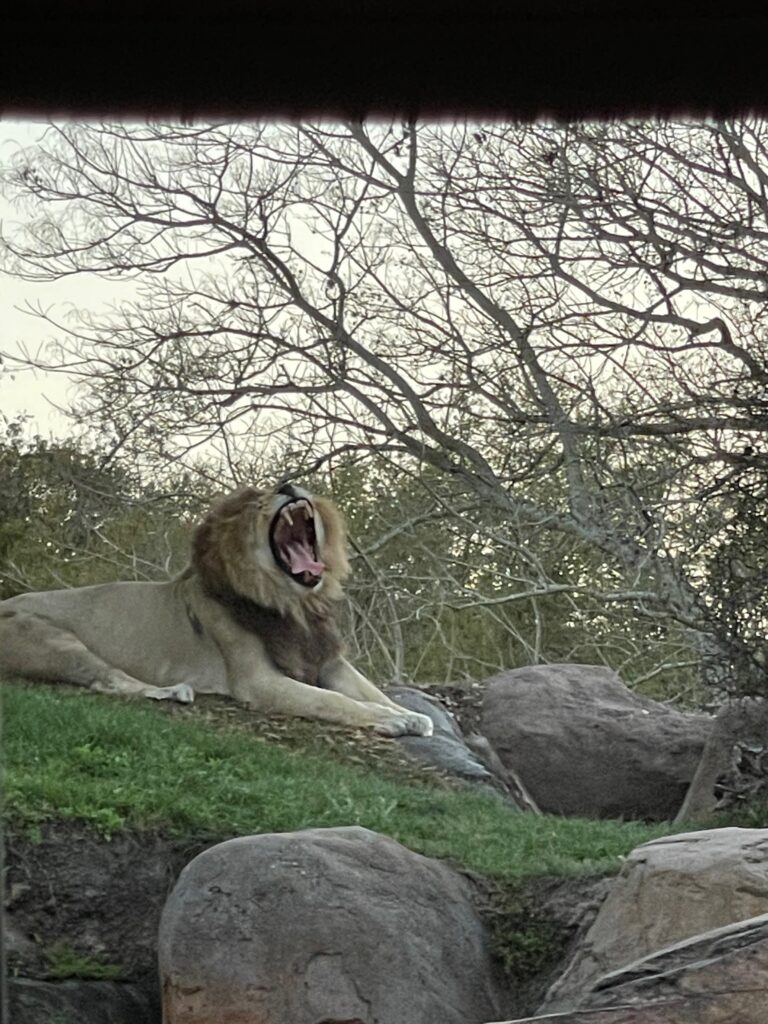 The second half of the tour went by quicker, and I should tell you that it was quite a bit more boisterous — there was wine and beer available with dinner, and many of our companions imbibed joyfully. It made for a lively and fun bunch. We enjoyed meeting everyone and were very glad we'd done this tour again. I doubt it will be our last time Savoring the Savanna.
Savor the Savanna is $174 per guest and should be booked in advance. Guests must be at least eight years of age and if under 18, need to be accompanied by an adult. All guests on this tour should be in good health and free from high blood pressure; heart, back or neck problems; motion sickness or other conditions that could be aggravated by this adventure. Expectant mothers should not participate. Guests in ECVs need to be able to transfer to an available wheelchair. Theme park admission (as well as a park reservation) is required and not included in the price of this tour.