We had the opportunity to attend one of Walt Disney World's Passholder Previews for Pandora, Animal Kingdom's new land. Be warned: there are lots of photos ahead, showing off Pandora's amazing visuals and delights.,  including new rides, food, and beautiful architecture.
Come in for a sneak peek into Pandora at Disney's Animal Kingdom, opening May 27, 2017.
Click To Tweet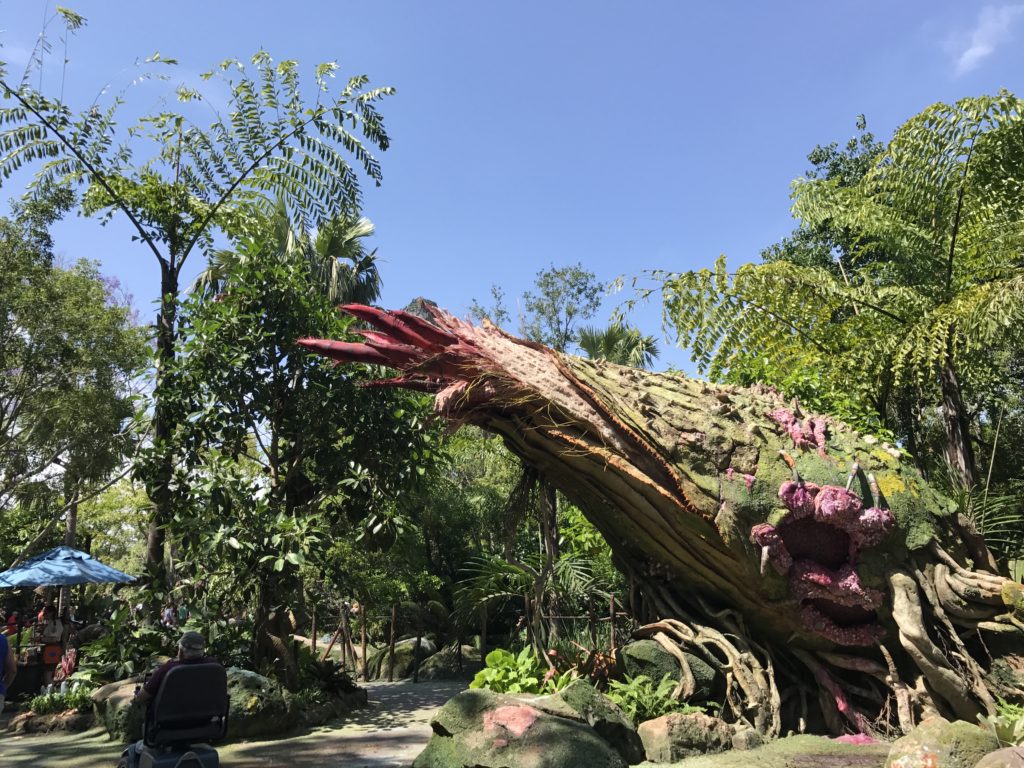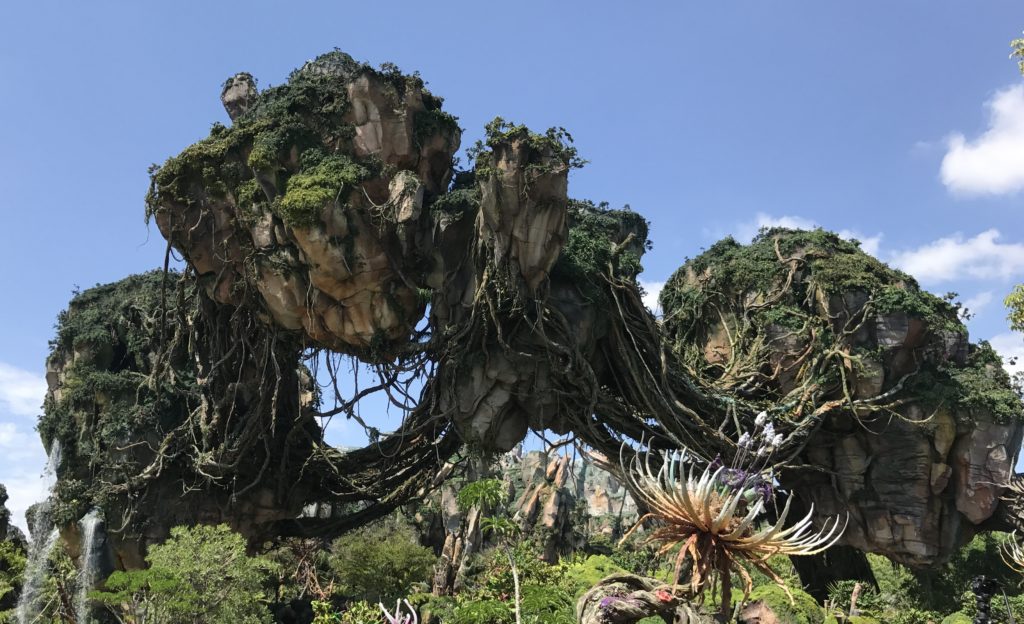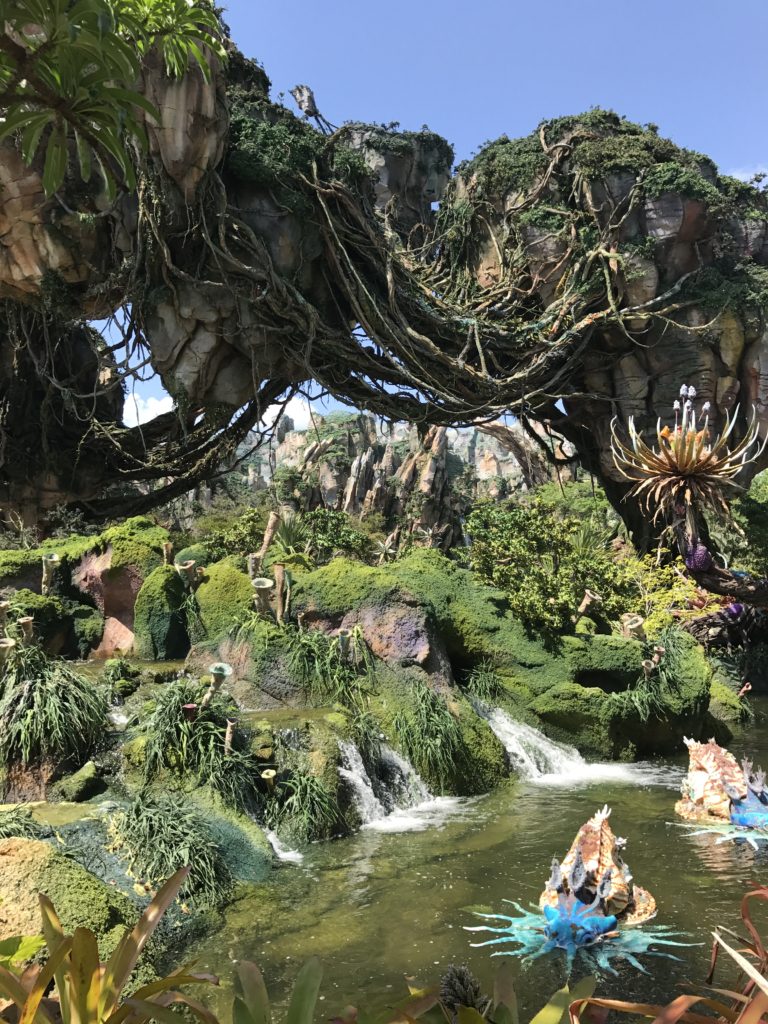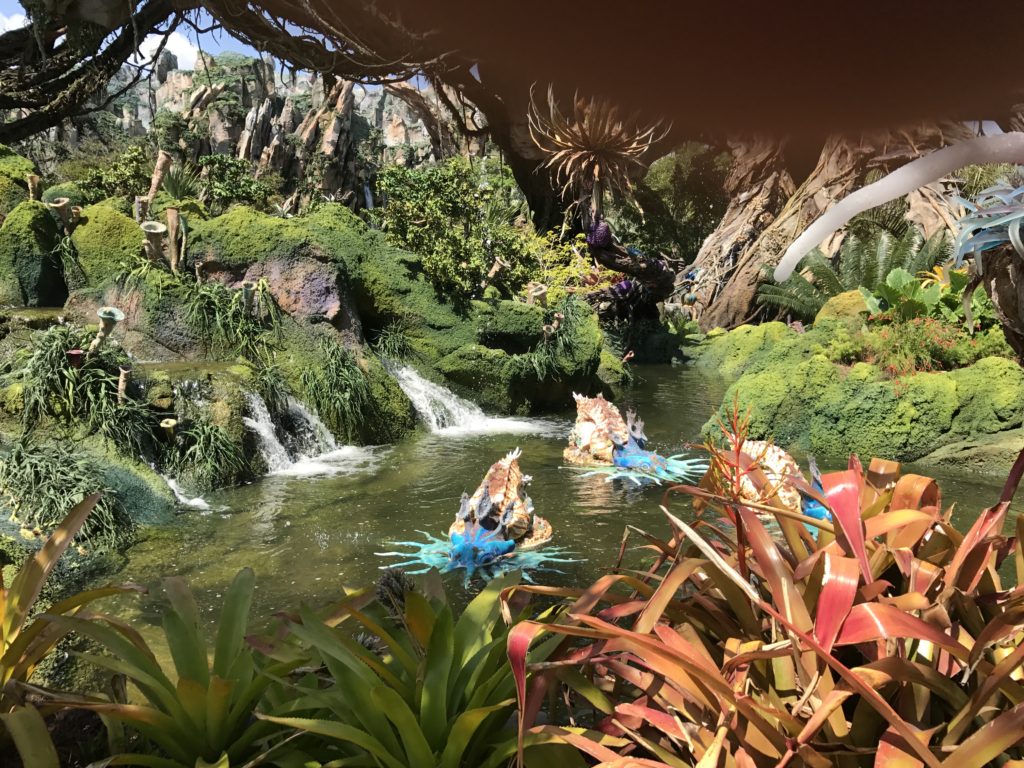 As soon as you walk into Pandora, the landscape changes. There's the lush foliage and flora you're used to at Animal Kingdom, but it's … different somehow. Alien. You're in another world. The floating mountains loom in the distance and the sounds of birds are everywhere around you. All the strange and exotic blooms of Pandora are there for you to enjoy. From what the cast members told us, the nighttime views are even more spectacular, when Pandora's bioluminescent plants come to life.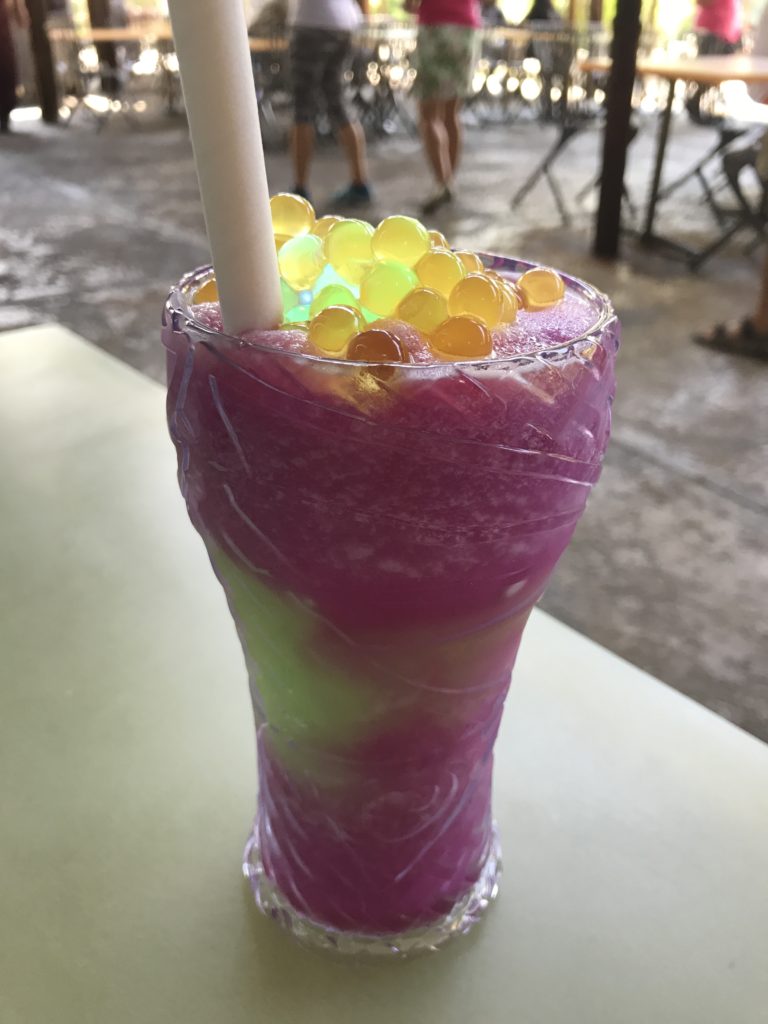 Our first stop, after taking in all the sights, was Pongu Pongu, where we each ordered a Night Blossom. This non-alcoholic frozen beverage (seen here in the souvenir cup) is a mix of limeade combined with apple and pear flavors topped off with passion fruit boba balls. It was very sweet, but I thought incredibly refreshing.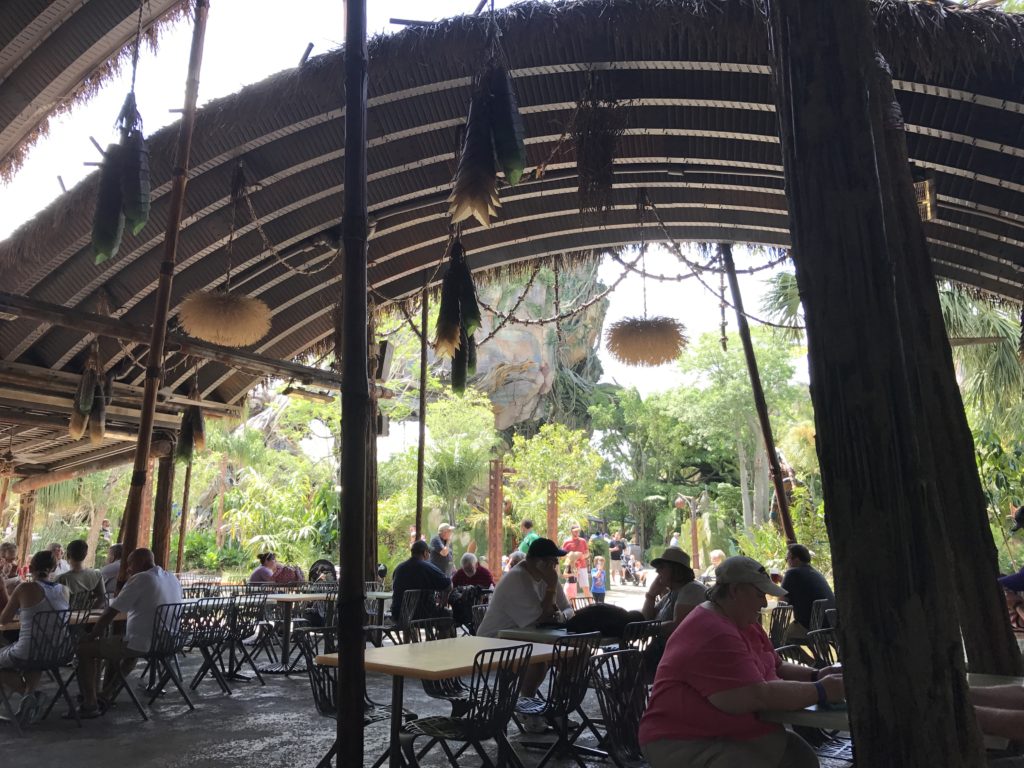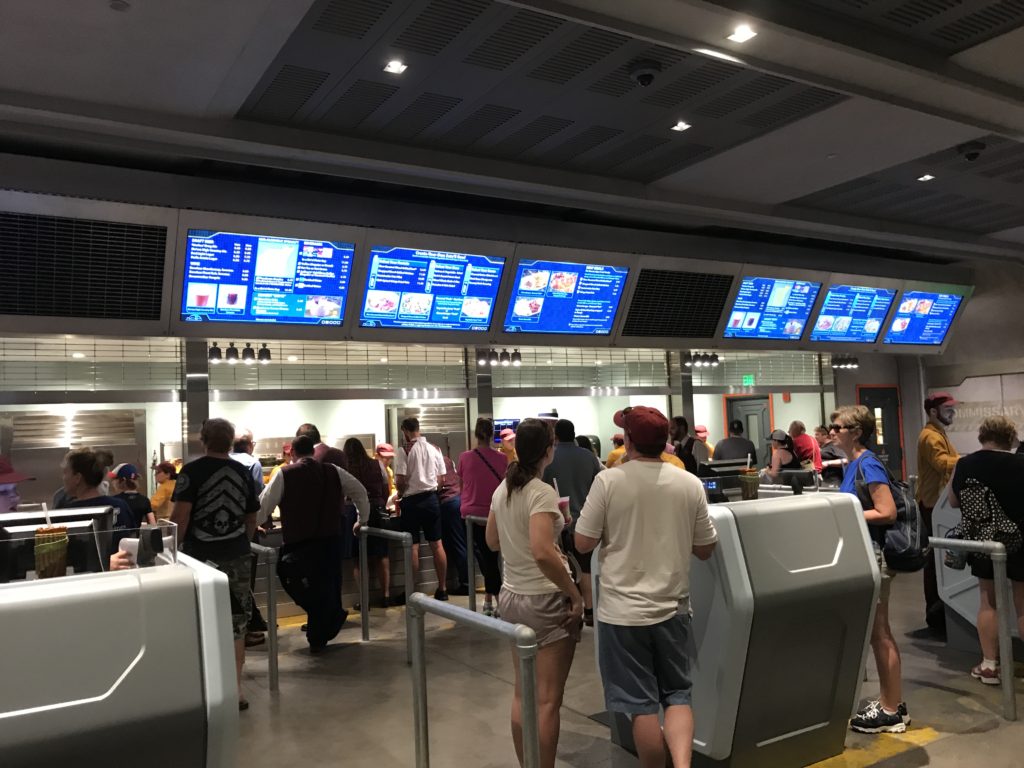 We enjoyed our drink in the outside seating area for Satu'li Canteen and then stepped inside for lunch. The quick service setup will look familiar to any Disney visitor — you place your order at the register, then pick it up at the counter. This restaurant, though, will be the first to offer mobile ordering through the My Disney Experience app, beginning May 27th. Make sure you've installed the latest update before you go.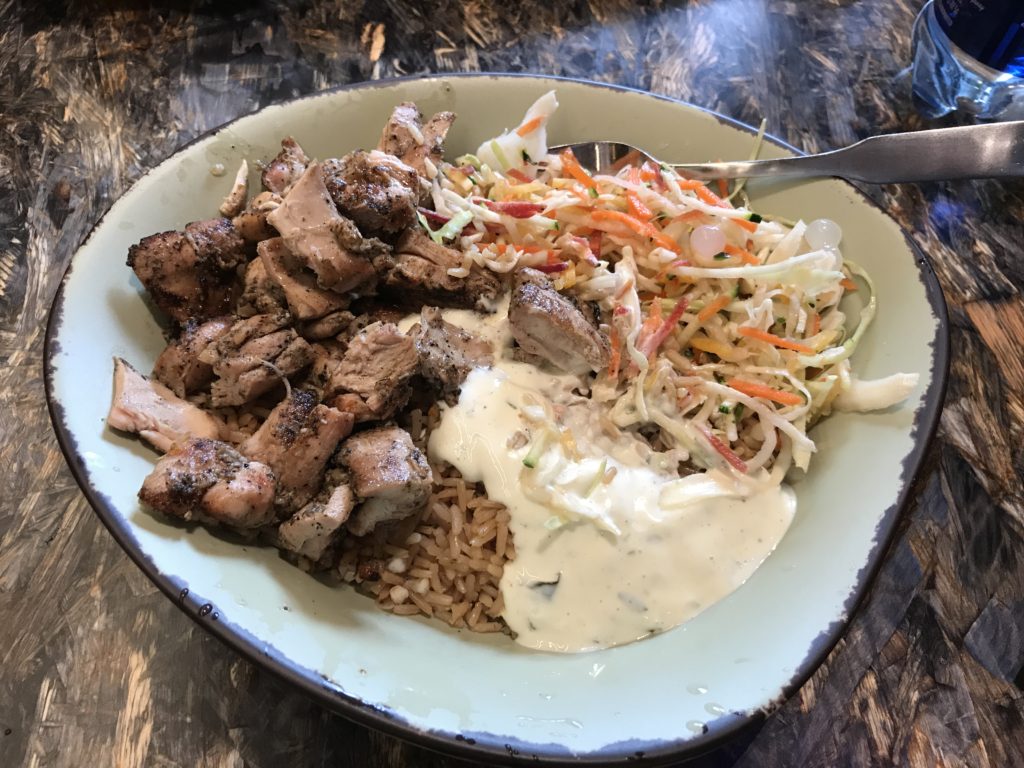 The food at Satu'li Canteen? Pretty darn good. I got the Chopped Wood-Grilled Chicken Bowl with wild grains and rice and the creamy herb dressing (seen here). My husband got steak with potatoes and the onion sauce and enjoyed his just as much. Both were tasty and filling. In fact, we were too full for dessert but the offerings looked delightful.
Now … the new rides.
First up, Avatar Flight of Passage. For the Passholder Preview, we were taken through the standby queues, though there were no lines at all given the limited attendance allowed. It gave us a chance to enjoy the scenery, and to appreciate all the work that went into designing this world.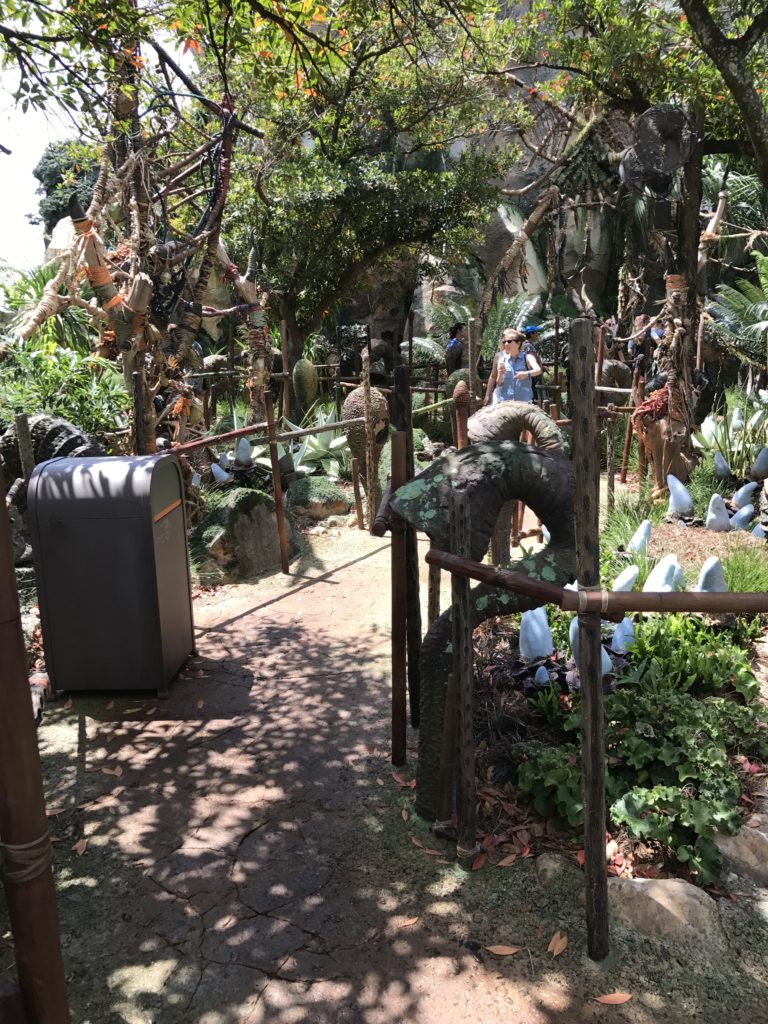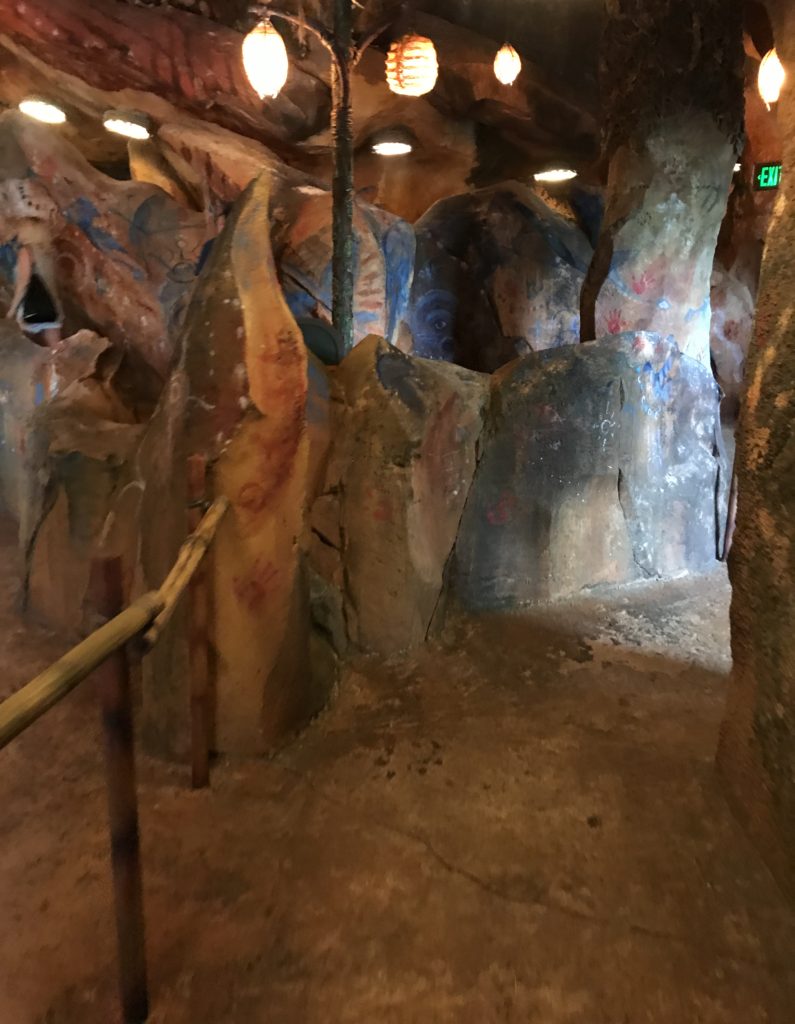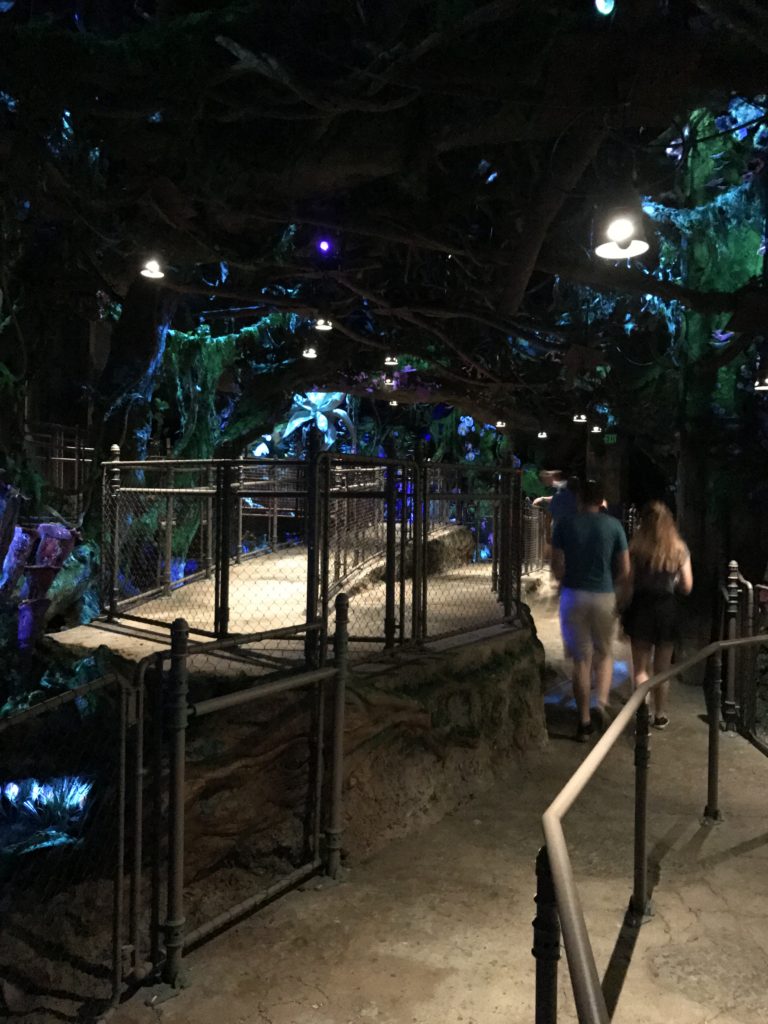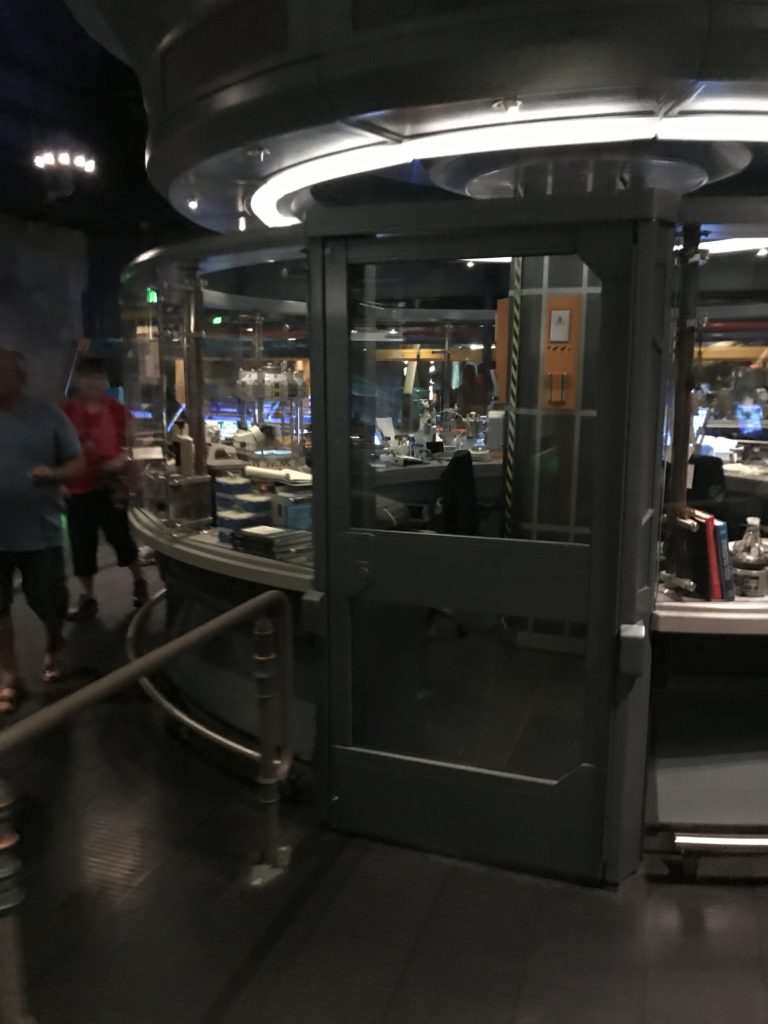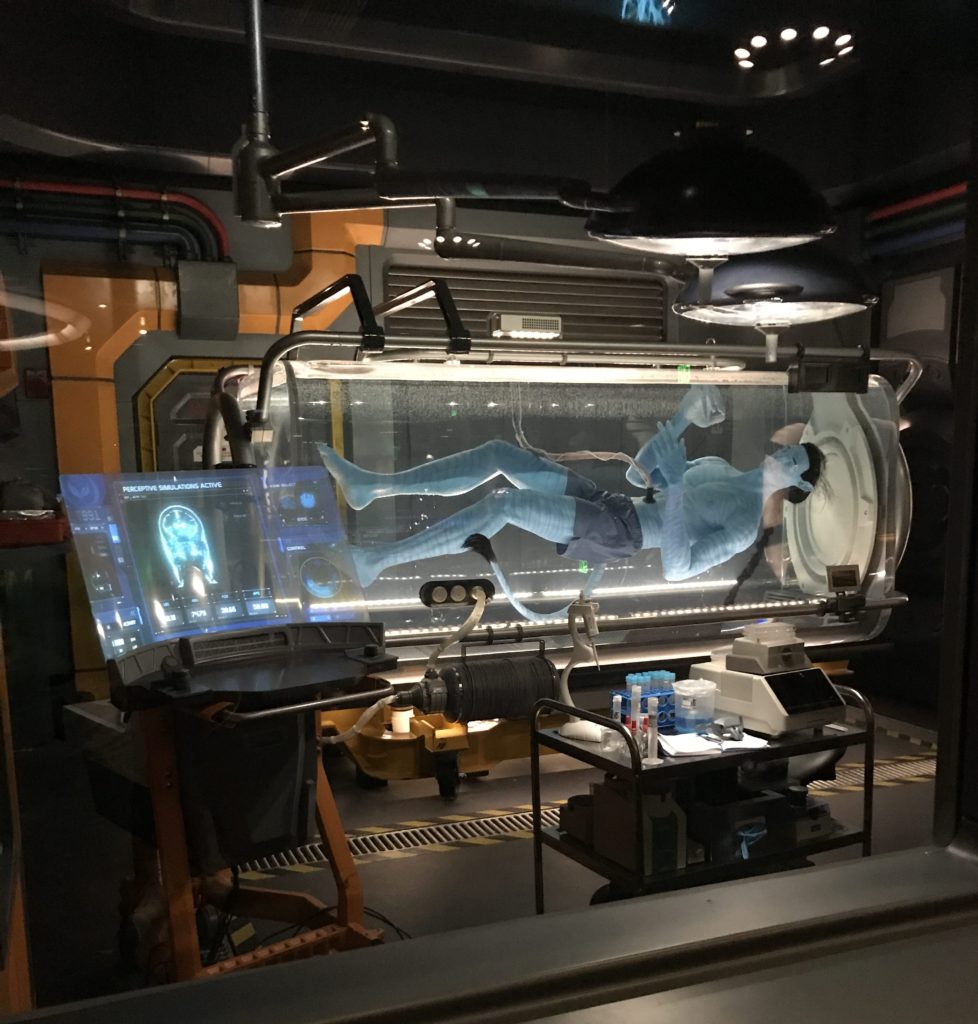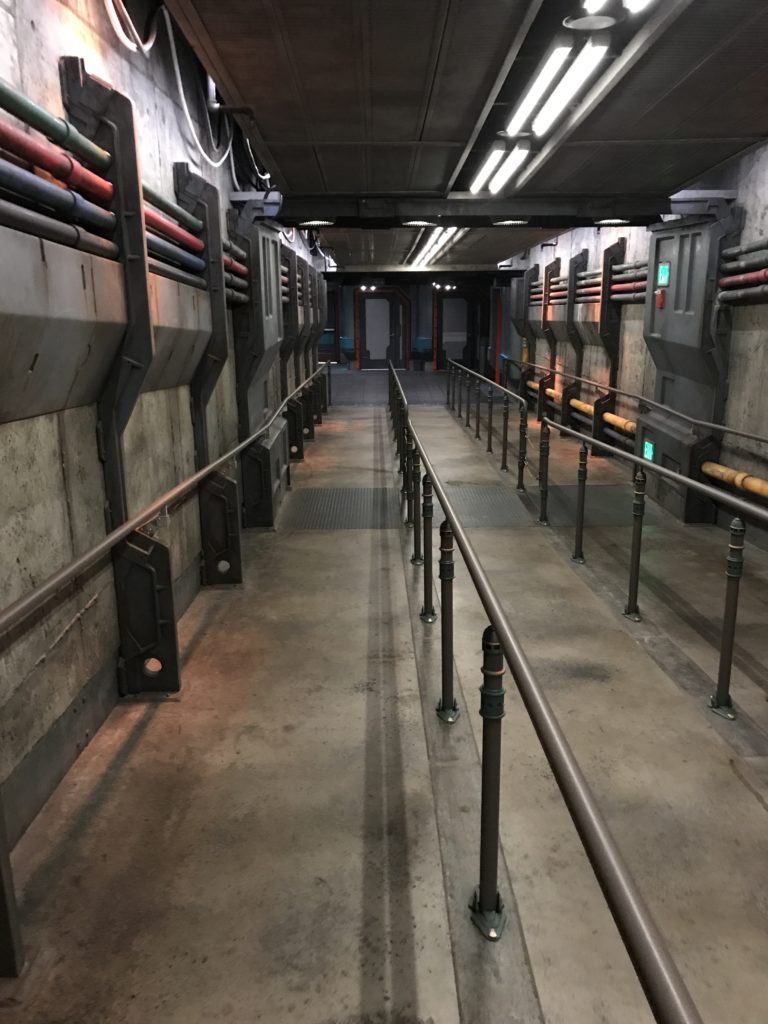 I have a feeling this queue will never look so empty again! It was a long, long walk to get to the ride, and it gives you pause to think how many parkgoers will fit in it. Rumor has it that the queue can accommodate a 6 hour wait, but I would hope for anyone's sake that's overestimating.
After you reach the end of that very long hallway, you wait until a "link room" is available. At that point, you and fifteen other riders are ushered into a room where the link process is explained to you, as well as a brief history of the Avatar program.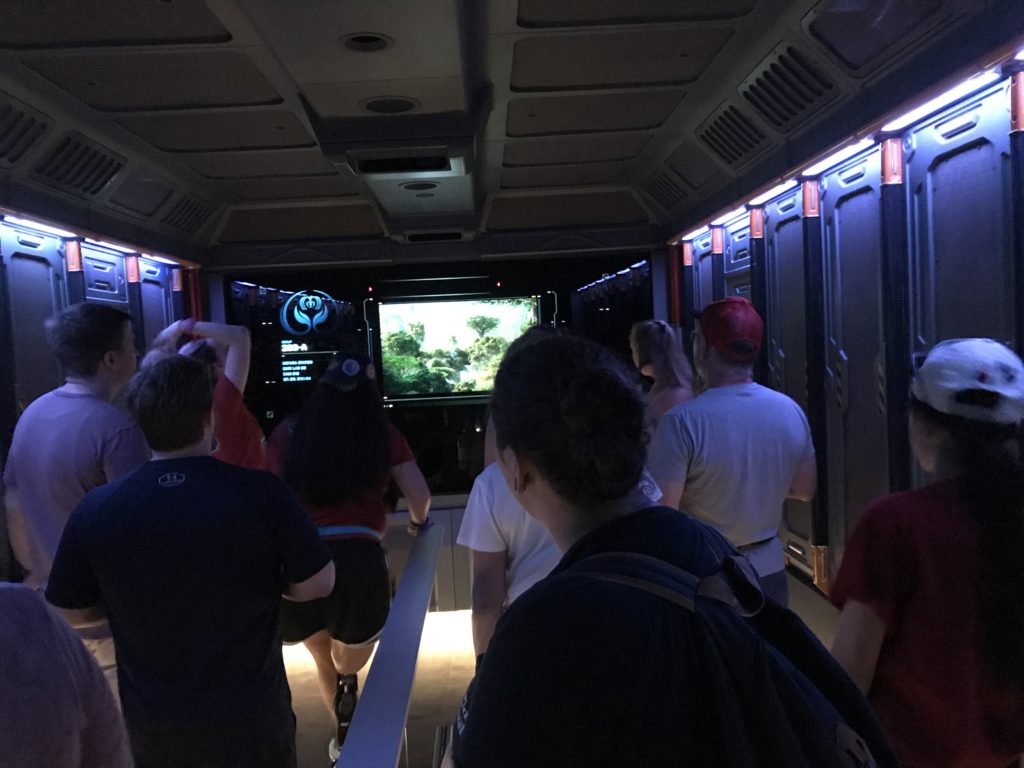 At this point, we were asked to turn off cell phones and cameras, so I can't give you pictures of the room where the ride takes place itself. My experience, though, was this: as I expected, I wasn't able to ride. I'm sure you've heard by now that Flight of Passage does not accommodate all body types, and this is true. In addition to being somewhat Pooh-sized, I'm a tall girl (over 5′ 10″) with long legs. No amount of scootching up or pointing my toes or sitting up straight or any of the tips you've heard were going to make a difference when my knees were already right up against the seat, with no room to move. Some tall people and some people more "Pooh" than I am have ridden, but it all depends on each person's individual body shape. If you're all leg and not tiny, you may run into the same problem I did. The Cast Member was super nice and helped me, and sounded absolutely miserable that I wasn't able to ride (she was more upset than I was, but more on that later).
So, I stepped outside through the exit door and waited there on a bench while my husband rode. While I waited, I had a great time talking to Cast Member William, who told me that this is a frequent occurrence and one the CMs feel terrible about. He said, and I hope he doesn't mind me paraphrasing him here, that as Flight of Passage Cast Members it's their sole purpose to give us an excellent ride experience, and that they're truly disappointed when they can't accommodate a particular rider.
We also talked a bit about why I wasn't upset at missing the ride — I never had any intention of doing it, even if I had fit (but wanted to see if I did) because I have a lower back fusion and continuing disc problems, and this ride seemed like it would easily aggravate that. (A cast member I spoke to indicated his own mother won't ride for the same reasons.) Disney gives its usual health disclaimer for this ride, warning those with high blood pressure, motion sickness, and "other conditions that could be aggravated". For me, because of the back restraint on this ride, as well as the banking and leaning that would take place, this was too big of a risk for my too-easily-aggravated back condition. I'm sure it's perfectly safe for anyone else, but if you're in my shoes, be careful.
My husband, however, did ride, and enjoyed it very much. You wear 3D glasses and the visuals are perfect and seamless. You truly feel as if you're flying, and part of that is because of the sounds, smells, and feel of your banshee beneath you, as well as the wind in your face as you soar and dive through Pandora's skies. Everyone's thrill level is different, but many are describing Flight of Passage as "Soarin' meets Star Tours meets Mission Space" — three great rides rolled into one and set in the exotic world of Pandora.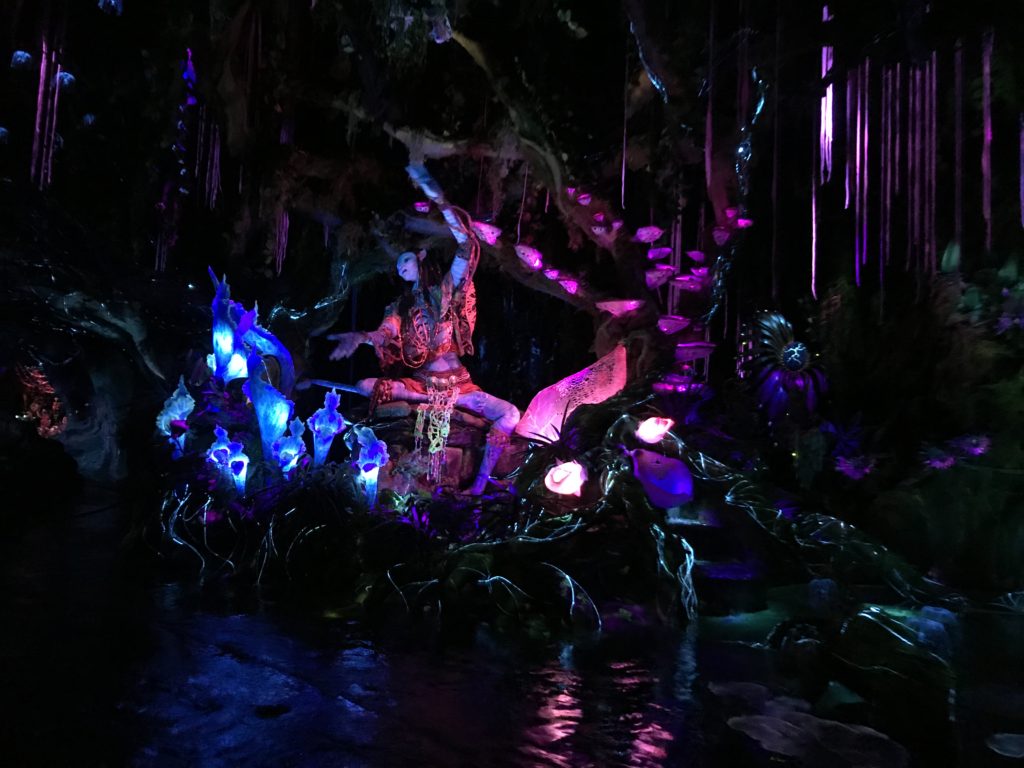 For a complete change of pace, we then went on the Na'vi River Journey, a beautiful boat ride through Pandora's nighttime world. The ride is serene and lovely — we rode it twice — and the technology is stunning. The boats have two seats and legroom is ample for a comfortable ride.
Both rides will offer FastPass+, but Park visitors can only choose one of the two Pandora: World of Avatar rides in their first three selections. In other words, you can FastPass Flight of Passage, Kali River Run, and Dinosaur, and then if you like, try to get a same-day 4th FP for Na'vi River Journey. This may or may not be easy to do at first, so choose wisely (and use MDE to your best advantage).
Pandora is an exciting addition to Disney's Animal Kingdom, with a great deal to enjoy visually, two new rides, an excellent quick service dining option, and banshees of your own to buy at Windtraders gift shop. Face painting, a drum circle, and other activities can be found throughout the land. While some may have questioned adding Pandora to Animal Kingdom (due to the fact that, well, Pandora doesn't exist, unlike DAK's other inhabitants), its message of conservation and protection ties in closely with Disney's commitment to environmentalism. I think visitors both young and old (and even those who've never seen "Avatar") will enjoy this new land to explore.