After 408 days away (our last visit was February 29, 2020), we finally went back to Walt Disney World yesterday.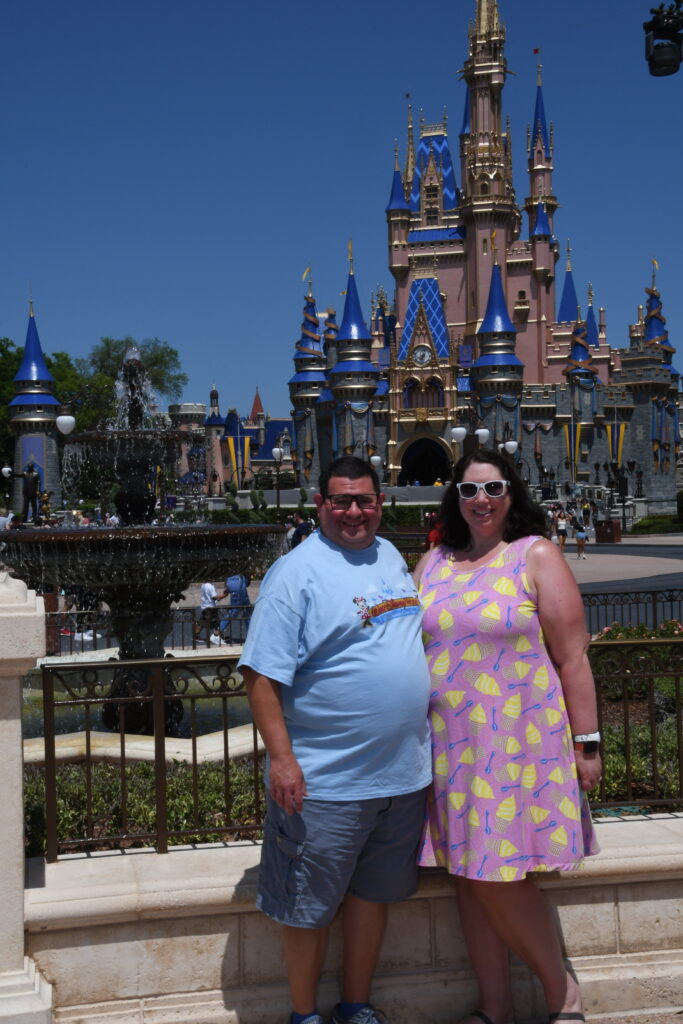 We live a few hours south of Orlando, and as Passholders who usually visit once a month or so, the year and change away was hard on us. And while we have a lot of friends who went back once the Parks reopened in July, for us the right decision was to wait until we were fully vaccinated. That's a personal decision for each person to make, and just what fit our specific situation. We missed Disney a LOT, though, so when we hit our fully inoculated date at the end of March, and we planned a one-day trip back to the Magic Kingdom as soon as we could. (We adhered to ALL safety protocols the entire time we were there, and wouldn't dream of doing otherwise.)
So many things different, and so many the same. It's still Disney. I still loved being on Main Street. I still got to ride two of my favorite rides, Buzz Lightyear's Space Ranger Spin and Haunted Mansion. I still shopped (we call our Disney haul our "loot"), coming home with a very cool Haunted Mansion blanket and a celebratory new Pandora charm. But I will say, it was harder than I thought it would be to not be able to see people's faces. To not be able to smile at Cast Members and see them smile back. More practically speaking, it was also hard to wear a mask in the humidity all day.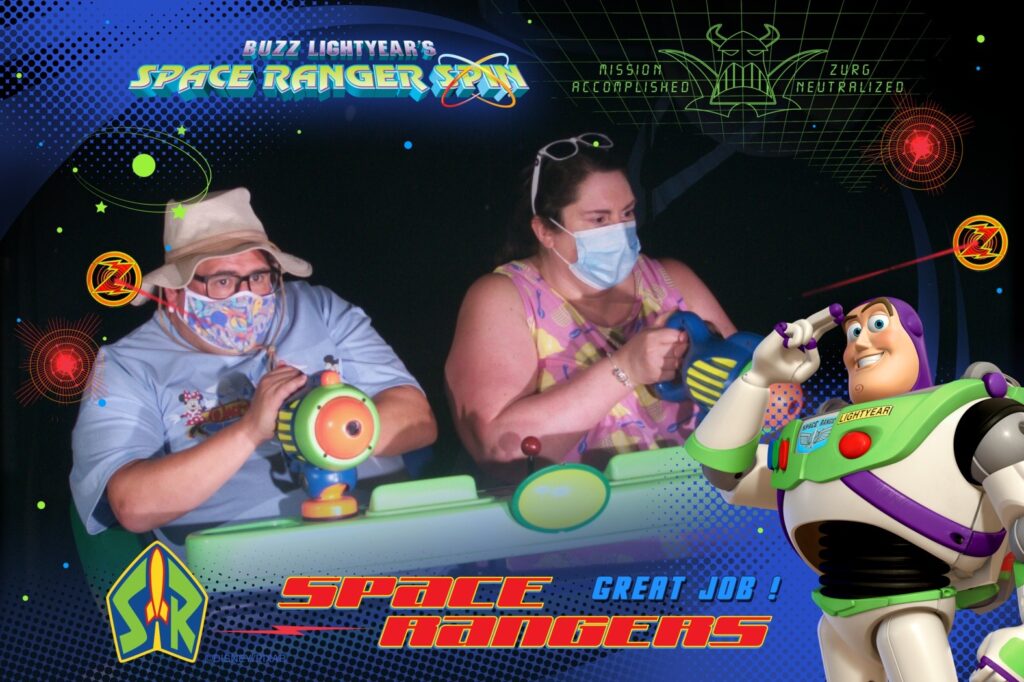 The worst thing for me, though, was the lack of Fast Passes. I can't express to you how much I miss being able to plan out my three favorite rides of the day. Lines are long and despite what some will tell you, it's not just because they're socially distanced. (I actually saw zero social distancing going on in lines. The markers are there on the floor, and Disney reminds you to stand on them. No one was doing so on the rides we were on. I don't know whether this was an unusual occurrence or not, but it shocked me.) The line for Winnie the Pooh was wrapped around to Cosmic Ray's. If you're familiar with the layout of Magic Kingdom, you know that's pretty far. Some people say they're glad that Fast Passes are gone for now, but I can't imagine why. Spending that much of my Park day in a line is a waste to me. I can't wait until FP+ comes back.
One change I do love are the Character Cavalcades. While under COVID safety protocols, Disney has suspended regular parades and fireworks. Instead, randomly throughout the day and in different locations in the Park, you'll see a Character Cavalcade instead. These are such fun. Short, just a couple floats maybe, unannounced, but all the more fun for that. We saw three in the time we were there, plus a performance from the Dapper Dans up on the train platform.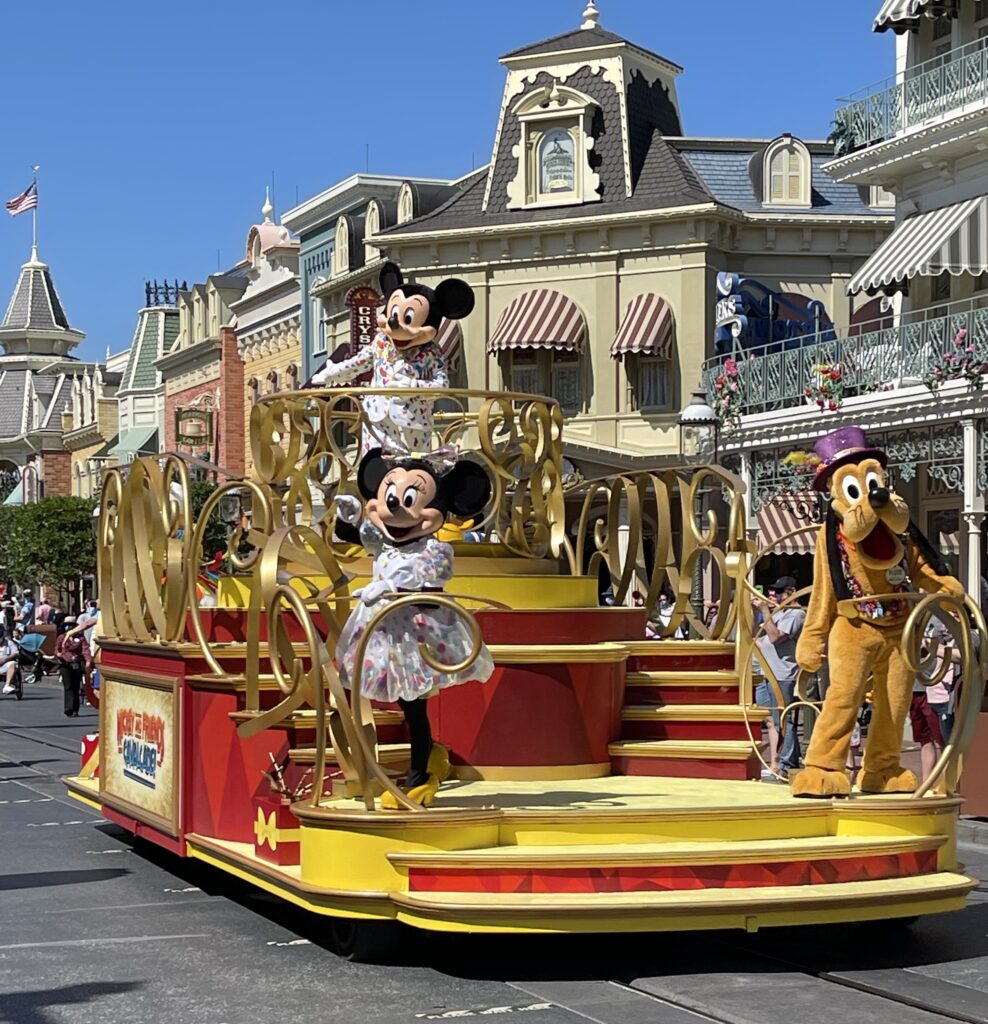 These, I hope are here to stay. I love the longer parades, of course. Festival of Fantasy is beautiful. But it does sort of jam up Magic Kingdom for a big part of the day, every day, what with people staking out viewing spots sometimes hours in advance. I wouldn't want to see it go away, but maybe it should just be once a week or something like that, with the smaller Cavalcades every day? Just a thought.
We weren't at the Magic Kingdom very late, because of the long drive home. We probably spent more time in the car than in the Park. But it was worth it just to be back. Yes, the masks are hard, mobile ordering can be a bit hectic, and it's harder to get dining reservations right now because not everything is open. You still need to be careful, even with a vaccine, by washing your hands, wearing your mask, using sanitizer, and trying to keep a little distance. But on the other hand, I got to see Mickey. I got lots of compliments on my Dole Whip dress. And when a Princess Cavalcade went by, the Fairy Godmother saw me waving at her and blew me a kiss. If that doesn't make your day, I don't know what will.