We had a chance to ride EPCOT's newest attraction a little bit early at a Passholder Preview for Remy's Ratatouille Adventure, which opens to the public on October 1, 2021. It was a lot of fun! Here's a largely spoiler-free (no ride pics, but a few helpful bits of information) review.
After being lucky enough to get a spot at the preview (Passholders, always check your emails!), we headed to EPCOT last week. The new Remy ride is on the right-hand side of the France pavilion, towards the back. The entire area is Remy-themed and full of delightful details.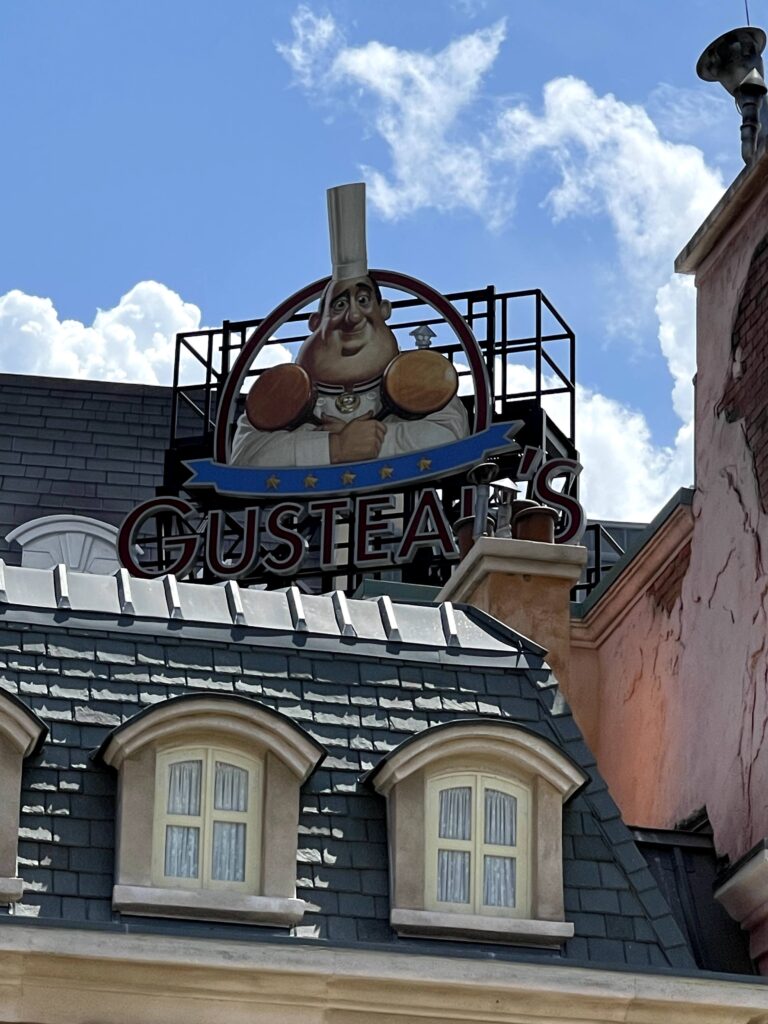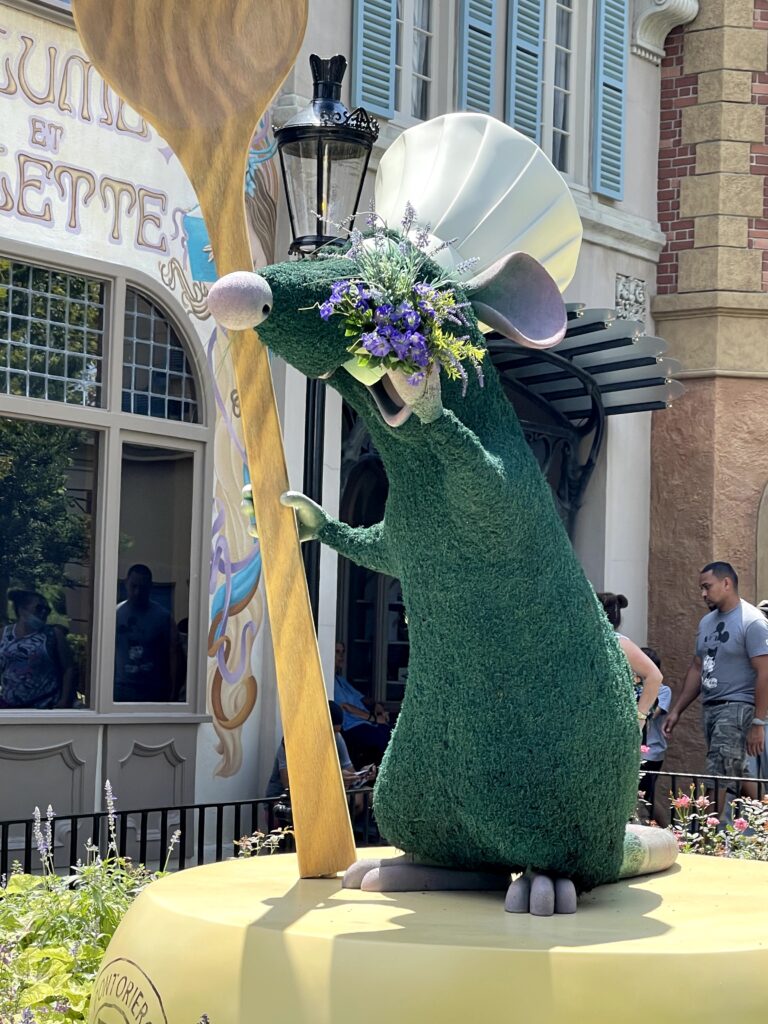 Also in this section of the France Pavilion you'll find La Crêperie de Paris, a new restaurant that offers both sweet and savory crêpes. There is a sit-down section as well as a to go window. If you want to check out the menu, visit the Disney Parks Blog for all the details. Lines at all of the previews were long, so this new dining offering is sure to be a hit.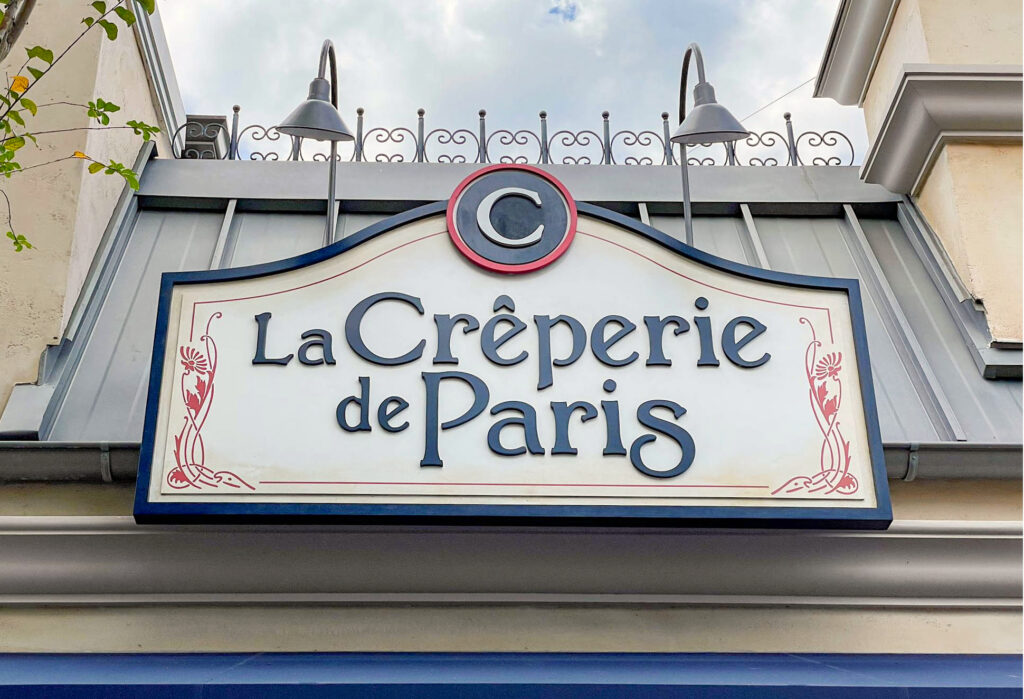 After a short wait in line, we were able to ride!
The ride car and indeed much of the experience of Remy's Ratatouille Adventure is very similar to another relatively new ride, this one in Disney's Hollywood Studios, Minnie & Mickey's Runaway Railway. Both feature trackless cars and digital screens. Remy's Ratatouille Adventure is suitable for guests of any height.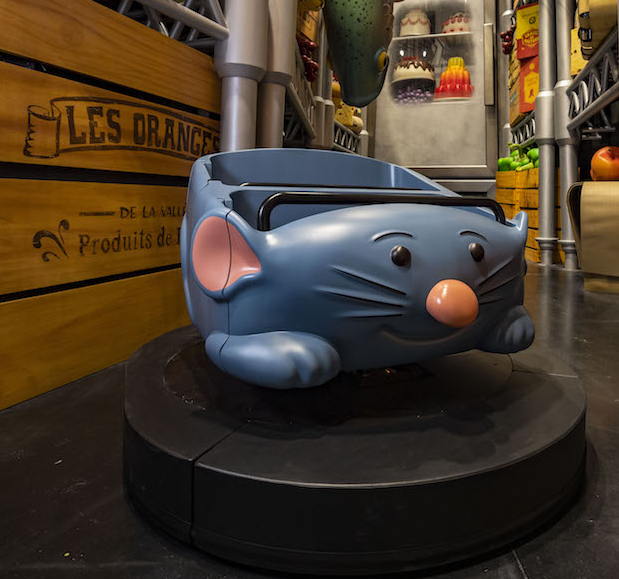 The ride car, which looks like a friendly rat, has two rows with three seats each in a bench with small dividers. I am tall and not small, and I fit comfortably in the middle seat of the back row (a Cast Member told me the back row has a little more legroom than the front). The door to get into the vehicle is a bit small and up a step; it helps to turn a bit sideways and shimmy in. Once seated, you lower a lap bar yourself to a comfortable point and then you're off!
In Remy's Ratatouille Adventure, your point of view is that of a rat scampering around Remy's kitchen. A combination of force perspective and 3D screens (yes, there are glasses) create an immersive illusion, with a few surprises I won't ruin for you here. I will say, though, for those concerned about motion sickness: while I was fine for 90% of the ride, there was one particular segment that had me feeling a little too dizzy. I closed my eyes for maybe ten seconds until the scene calmed down and then was fine.
A spoiler-free review of Remy's Ratatouille Adventure at Walt Disney World.
Click To Tweet
Overall, Remy's Ratatouille Adventure is a delightful ride that is a terrific addition to the World Showcase. Remy has long been the Food & Wine Festival's mascot and he deserves a little love! What this ride isn't is a game-changer or a thrill ride of any kind. Anyone expecting the an awe-inspiring experience like Flight of Passage is going to be disappointed; anyone looking for a fun update on the much-loved dark rides of Fantasyland (Peter Pan, Winnie the Pooh) will enjoy it a great deal.
Having said that, be prepared: when the ride opens on October 1, Disney plans to use a virtual queue similar to that being used on Rise of the Resistance. From the Disney World site:
"When Remy's Ratatouille Adventure initially opens, in order to experience the attraction, Guests will be required to join the virtual queue. A standby queue will not be available at opening. The virtual queue will be limited and subject to availability. Each Guest can enter the virtual queue no more than once per day."
Of course, when the new Genie+ and Lightning Lane system comes online this fall, there may be other options for securing a spot on this new attraction. Stay tuned for more details!