I've been on just two cruises before, both Disney, in 2013 and 2016. Because I'm prone to something called mal de debarquement syndrome (which basically means you still feel like you're on the boat after the cruise, sometimes for months) I stopped cruising. Then there was COVID, of course, and we all stopped cruising. Now, I decided (under advice of my awesome ENT) to give a Disney cruise another try. We cruised for four nights on the Disney Dream out of Port Canaveral, with stops at Castaway Cay and Nassau, in the Bahamas.
I researched the heck out of my previous cruises and I prepared the same way for this one. There were a few surprises, though, and almost none of them having to do with the pandemic.
While the rest is in no particular order, this is the most vital piece of information I need to pass on to any potential Disney cruisers out there: they DO NOT sell Pepto Bismol on the ship. Nope, not in any of the stores. So if you get a jumpy tummy and you're thinking that cool pink liquid would settle things down? Better bring it with you.
In happier news for me, but probably not as useful for others, it turns out a shorter cruise (4 nights vs 7 nights) made my post-cruise dizziness/balance issues much lighter and easier to deal with. There's still a little bit of woozy, but not much. Manageable.
There's a bit of a dining dilemma imo. So, there are two seatings in the MDR (Main Dining Room) each evening, Main or first Seating and Second Seating. These vary a little by ship but they're at about 5:45 PM and 8:00 PM. We used to do the Second Seating. We're two adults, no kids, and by nature of the timing there's fewer kids in the later slot. That's true, but we're older now, and honestly, I just can't eat a huge meal after 8 PM anymore (keeping in mind it's close to 9 before you're done). So we tried the early Main Seating, and it was a bit of a disaster. I expected there to be more kids, and there really, really were. So it's basically constant shrieking. More to the point, your serving team has very little time to spend with you because they're running from the second dinner starts to get food into little ones' mouths right away to keep them from melting down, then the adults, and then back to kids again. When we did Second Seating on our earlier cruises, we really got to know our serving team (Note: With Disney's rotational system, you have the same servers every night as you move through the rotation of dining rooms.) to the extent that I practically cried saying goodbye to the first crew — Sasha and Gedde, we still talk about how amazing you were. They told us about their jobs, the ship, their lives; we were on our honeymoon and Sasha had just gotten married and his wife worked at Palo. She came to say hi when we ate there. They were friendly and attentive and knew our drink orders after the first night and had them waiting for us when we got there each following night. We took pictures with them at our last dinner, and honestly, who am I kidding, I did cry a little. At Main Seating, this time? Our servers were very nice and all, but way too busy to do any of those things.
So, it's a bit of a rock and a hard place, if you're like me. Second Seating is too late for us to eat, and Main Seating is a madhouse. Honestly, we would have skipped the MDRs after the first night and gone to Cabana's for dinner, but it hasn't reopened since COVID. In the future, assuming it comes back, that's what we'd do. Or book Palo, or even just room service.
We didn't get to know our servers very well, but our stateroom attendant, Windy, was just amazing. We kept telling him he made our cruise. He just took such great care of us and got us everything we needed. He also did great towel animals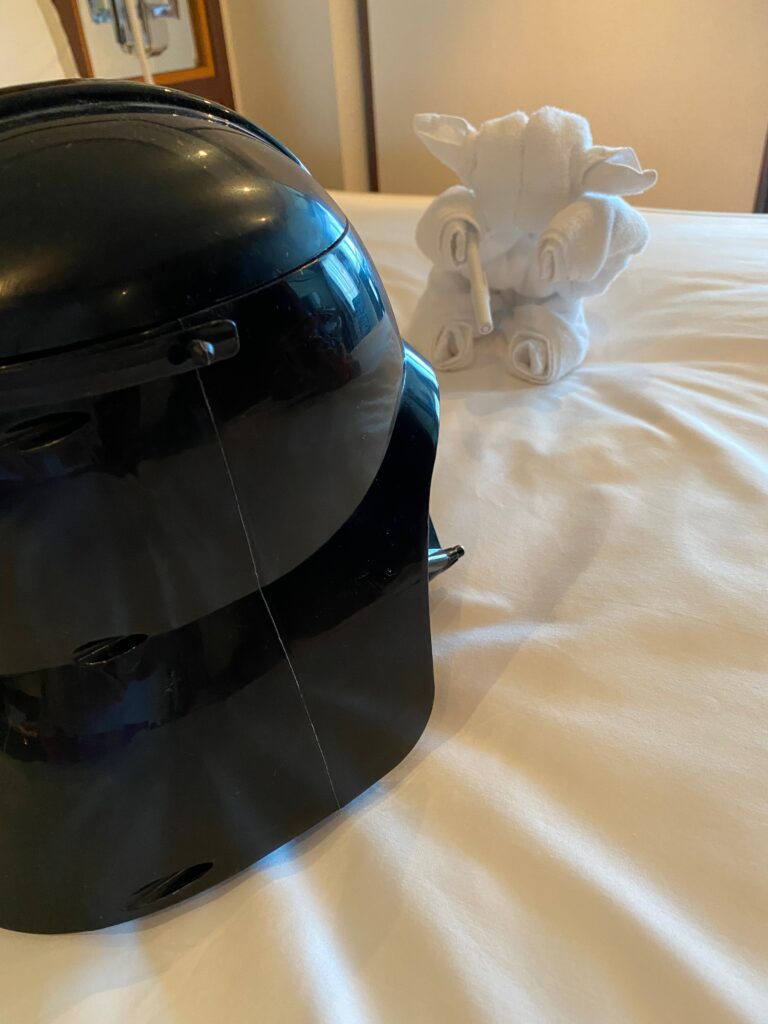 Our cruise was from May 2 to May 6, therefore May the 4th happened while we were onboard. However, Disney didn't have a single Star Wars event/character meet/merchandise/movie showings/mention. Some cruisers dressed up in Star Wars gear and outfits, and many of us wished each other May the 4th Be With You, but that was it. I have to be honest, folks were a little disappointed there wasn't SOMETHING to acknowledge it. My guess it that Disney feels that Cruises = No Star Wars except for the specialty Star Wars Days at Sea Cruises. Which this should have been, but wasn't.
Speaking of movies, we've gone to the movie theater before on other cruises. It's nice, and there's free popcorn. We saw The Force Awakens there, for example, in 2016, with a great crowd. But this cruise all they were showing was Encanto and Frozen, alternating. They're both great, but they're both available on demand in your stateroom. There was a late night showing of the premiere of Dr. Strange in the Multiverse of Madness at 11 PM on our last night, but this was never announced and only put on the schedule a few hours before it was shown. I'm guessing most people didn't even know about it.
Character meets in general are still slightly distanced, but no masks, and there are tons of them all day long. The Navigator app (which is the only place to see the day's schedule now, no more paper version) had them all listed, but not by name. We asked for more information on which characters were meeting when, but were told Disney purposely leaves that information out because they don't want people to start lining up in advance. Instead you've just got to show up (most happened in the Atrium) and see who's there. I will tell you that by doing that in the afternoon on our Nassau port day, I got to see Mickey, Minnie, Goofy, Donald, Daisy, Stitch, and Captain Hook & Smee, all in pirate costumes, all with no waiting.
We came very close to not being able to have our day at Castaway Cay because the winds were too strong for our first attempt to dock. We were soooo close to the island and then had to back away, it was gut wrenching. Luckily things cleared up a bit and the captain made a second attempt later, and we ended up with a beautiful day on the island. Disney tries their best and I was told that in some cases, if the entire day is a wash, they can attempt to use a scheduled sea day to visit CC instead. I'm sure it's rare, but it does happen that weather can prevent a safe docking, so keep that in the back of your mind.
We rented a cabana on Serenity Bay, the adult-only beach, and enjoyed it immensely. I recommend water shoes for going in the ocean and to watch out for ocean life. I'll never forget the woman on our second cruise who was up in arms because she "hadn't been told" there would be fish in the water. "This is Disney! Couldn't they keep the fish out?!" Personally, I love the little guys that are everywhere right near the shore.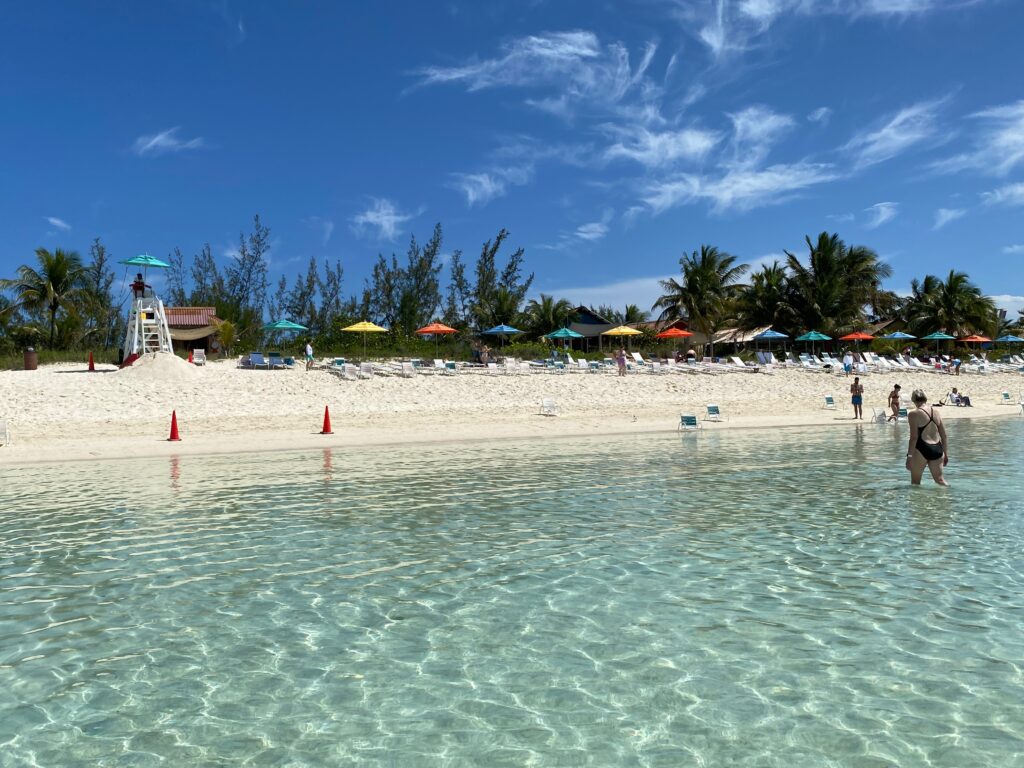 Things I Wish I Knew About Going on a Disney Cruise – 2022 Edition
Click To Tweet
Back on the ship, I saw a number of cruisers using ECVs (scooters) without too much difficulty. The elevators, though, were rather tight. I also didn't see any accessibility for the pools, and personally would have dreaded navigating one around any of the dining rooms.
One of my favorite things on previous cruises were the hot tubs in the adult-only section, which have glass bottoms and look out over the ocean. But the jacuzzi jets were on the lowest possible setting, barely stirring the water at all, so that it was basically just sitting in very hot still water with other people, which is weird. Several of us asked the pool attendants if they were malfunctioning, but we were assured they were working just fine. It so happens that we were staying Concierge on this cruise, and up on the Concierge-only deck, the hot tub was working just fine, with jets at full blast. No idea what that was about.
I haven't said much about staying Concierge because I honestly couldn't say if we'll ever be able to do it again — it's pricey. But for what it's worth, we did enjoy it very much. The lounge is a nice home base and the staff all very helpful. We stayed in a one-bedroom suite and it was an insane amount of space. Including a whirlpool bath tub. Which I used several times. I mean, a tub on a cruise? Crazy.
Even in our fancy schmancy room, though, there were hardly any electrical outlets. One near each side of the bed, but the one on my side was being used by the phone. One in the bathroom. Two in the living room area. And then a couple more near the floor in hallways, I'm assuming to facilitate cleaning and housekeeping. We had a rough time getting everything we needed powered up. You're not allowed to bring power strips on board, but you are allowed to bring a USB hub. If we'd done that, it would've been no problem.
Going on a cruise is a lot of fun, but does require some planning — you're out in the middle of the ocean and you can't run to Walgreens for anything you forgot. Hopefully some of these tips help you plan your trip.
Happy Cruising!