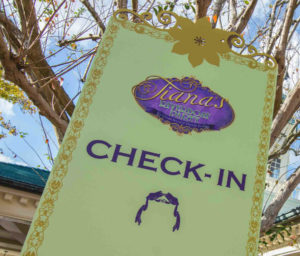 I recently had the chance to attend Tiana's Riverboat Party – Ice Cream Social at Walt Disney World, complete with a VIP viewing location of the Festival of Fantasy parade. I would recommend it to anyone looking for a fun and special experience on a Magic Kingdom afternoon.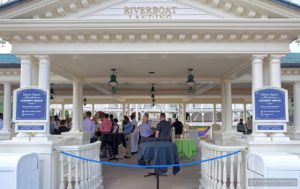 The party begins with check-in at the Liberty Riverboat dock, 45 minutes before the parade begins. However, as with most things of this nature at Disney, we were allowed in 15 minutes before that, at 2 PM, instead of 2:15.
At the boat dock you're greeted by a plethora of Cast Members and a variety of treats. The desserts and ice cream are pre-plated for you, with ice cream fixings on a side table.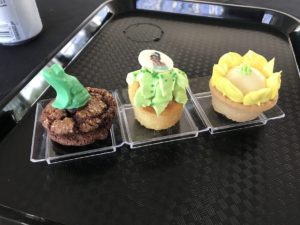 There is almost no seating on the dock — just one bench right at the door — just tables scattered around for standing. You are welcome to go on the boat at any time, where there are seats to be found, but if you want to meet Tiana right away, you need to stay on the dock. Having said that, there's plenty of time to go back and forth, and more meet & greet opportunities later.
Tiana leaves for the parade and the Liberty Belle Riverboat pulls away from the dock, just slightly moving closer to the street and parade path. This map shows the parade route (yellow line) and where the boat parks for the duration of the parade (orange).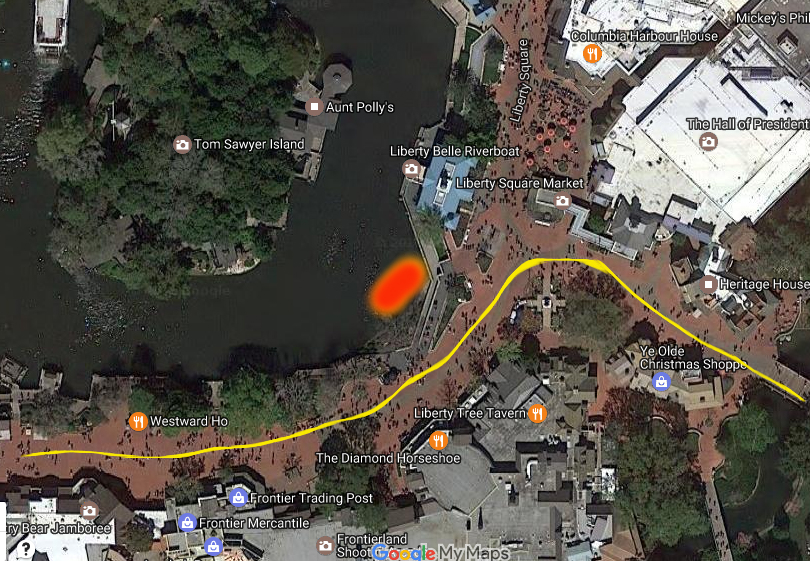 The big question is, is the view any good from there? I would answer yes and no. It was better than I was worried it would be, and yet there were still some issues. There's plenty of room to line up along the railing of the boat to watch; we were on the upper level, where I would assume the angel is best. And you can see rather well, considering: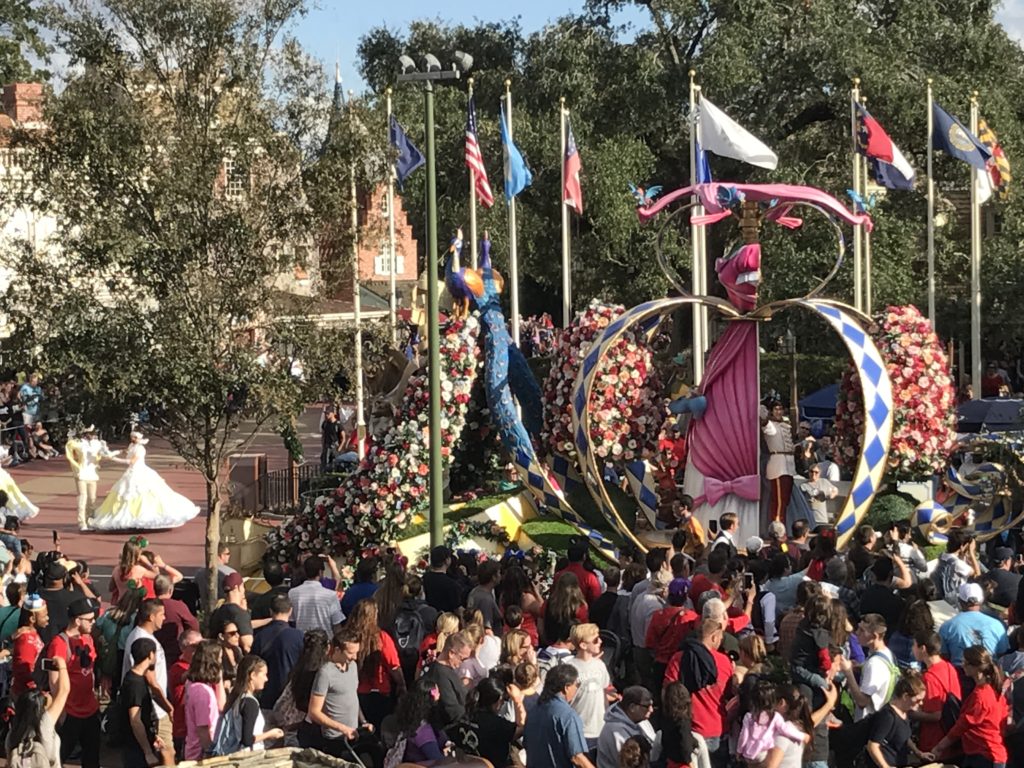 But unless you stand in the exact right spot at the railing, there are a lot of trees in the way. Also, you're not up close and personal, to be sure. Lastly, you miss out on seeing the front of the floats, since they go by you, not towards you, if that makes sense. It's not a bad view, and if you've seen Festival of Fantasy before, I'm sure you'll enjoy it just fine. But if you haven't, or if you have little ones who enjoy the characters waving to them and interacting, you might be disappointed.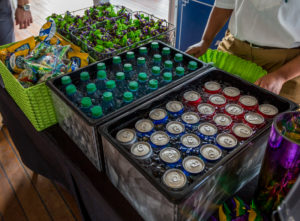 After the parade, Tiana and Naveen rejoin the party and the Liberty Belle takes a cruise around the Rivers of America, circling Tom Sawyer Island. You can relax, meet & greet, and enjoy more snacks. Drinks and popcorn were available in ample supply.
One thing I hadn't seen mentioned anywhere was the fact that a PhotoPass photographer was available during both the party and the cruise. I assume he took meet & greet photos, but he also was happy & willing to take any number of shots of visitors at the railing, watching the parade, or any other pose your heart might desire. It was nice — we love getting all the poses we can.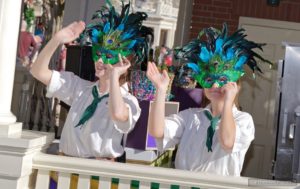 Overall, we had a very nice time at the party. Cast members were above and beyond in regards to helpfulness and customer service. Treats and snacks were plentiful. The riverboat ride was relaxing, and it was nice to have a place to watch the parade from. But it wasn't an ideal place. I can't help thinking this special event would work better if, when it was time for the parade, guests were escorted off the boat and to a reserved viewing area on the street, much as they do for other parades, and then back onto the boat for the cruise. I still recommend the party the way it is, but think Disney should consider this small adjustment and improve the experience further.
Tiana's Riverboat Party & Ice Cream Social tickets are available for $49 per adult and $29 for children ages 9 and under (tax included). For reservations, you can book online or by calling (407) WDW-DINE or (407) 939-3463.